Travel Sets New Employment Record in April
May 03, 2019 By U.S. Travel Association
Today's employment report by the U.S. Department of Labor showed that total nonfarm payroll employment increased by 263,000 in April and the unemployment rate declined to 3.6%.
Based on these figures, U.S. Travel Association economists estimated the size and performance of the travel industry to the ongoing expansion. Employment in the travel industry increased by 8,600 jobs in April to a record level of more than 8.8 million. The jobs gains mainly occurred in food services/drinking places and amusements/gambling/recreation industries. Airline industry employment also increased over the month.
During the first four months of 2019, travel industry employment increased by 56,800 jobs, contributing 7.5% to the growth of total private sector employment so far this year.
Since the employment recovery began in March 2010, travel has been a powerful driver of the U.S. economy. Throughout this economic expansion, the travel industry has been a consistent and important job creator.
Since the overall employment recovery began in March 2010:
Travel has added 1.6 million jobs
Travel has generated 7.3% of total private sector job growth
Travel has increased jobs in 95 out of the past 110 months
Image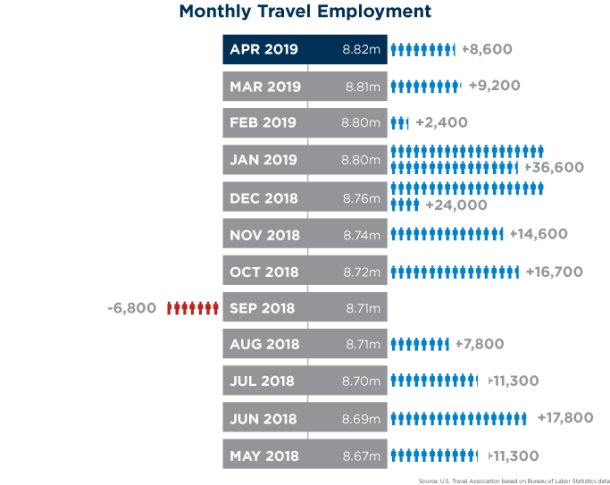 ---
CONTACT US
U.S. Travel
For more information about this blog, please contact us at: