Travel is serious business—though admittedly our tactics are more lighthearted.
We hear a lot about how this year's presidential candidates will create jobs and improve the economy. Turns out, they're doing exactly that for local economies across America simply by stopping through during their race to the White House.
From primaries and debates to the national party conventions, election-related travel creates jobs and delivers a significant economic bump to states and cities.
This year, the U.S. Travel Association has driven that message home up and down the campaign trail.
Here's where we've been.
---
New Hampshire
In February, U.S. Travel estimated that every New Hampshire visitor in town for the campaign season spent approximately $350 per day on transportation, hotel rooms, meals, rental cars and other needs for their trip.
All that added spending equals jobs. According U.S. Travel analysis, every $80,700 in visitor spending in New Hampshire creates one job. That means one job supported for, say, every 33 reporters coming to the state to cover the primaries for seven days. Who knew that candidates bloviating about jobs actually created them?
U.S. Travel promoted this message through ads at the Manchester, N.H. airport—and attracted significant social media buzz from political journalists.
Image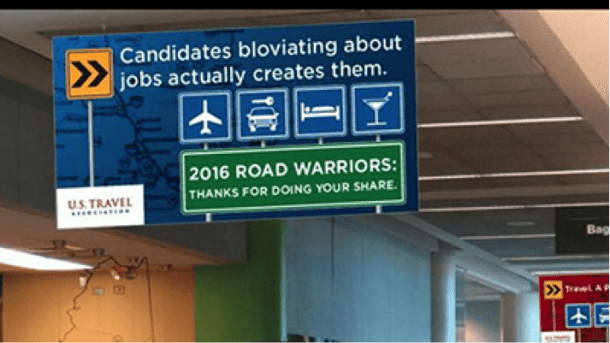 ---
South Carolina
Based on an analysis of hotel room demand the last five presidential cycles, U.S. Travel estimated that the South Carolina primary would lead to an additional $24.2 million in hotel revenue in South Carolina.
These extra dollars produce a considerable bump in jobs—even greater than in New Hampshire. According to U.S. Travel analysis, each visitor in town for the primary will spend an estimated $330 per day on average. Since $74,200 in visitor spending supports one job in the state, every 32 reporters in town covering the primaries for a week helps employ one more South Carolinian.
Custom hotel keycards reminded many South Carolina primary-watchers of this fact—and of the travel industry's impact across America. U.S. Travel complemented these efforts with a social media campaign (and a few well-placed puns) aimed at a broader national audience. 
#Travel is a KEY economic driver for states along the campaign trail https://t.co/ktHAy1lYTN #FITS #SCPrimary pic.twitter.com/gRDQnxfDT7

— U.S. Travel (@USTravel) February 20, 2016
---
Florida and Michigan
The hotel key card campaign continued in the battleground states of Florida and Michigan. Thousands of primary-watchers got our message at prime hotel locations, widening the impact that much further.  
Image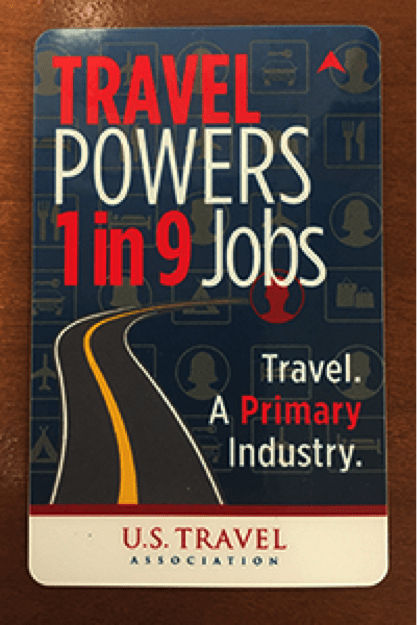 ---
Republican National Convention in Cleveland and Democratic National Convention in Philadelphia
We announced today that the party conventions are responsible for an estimated $360 million in direct spending for host cities. That spending total splits straight down the middle for both the RNC in Cleveland and the DNC in Philadelphia—$180 million each.
According to U.S. Travel research, each convention attendee will spend an average of $300 per day. Including direct and induced impact, these visitors are expected to generate $600 million—an even $300 million for both Cleveland and Philly. That total could support 1,800 jobs in each region, or 3,600 jobs total. 
Image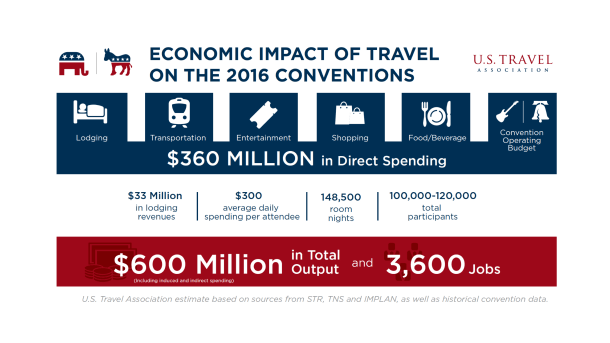 As campaigns, media and other convention-goers descend upon Cleveland and Philadelphia, U.S. Travel is placing this message front and center with ads directed at convention attendees. We've placed messaging highlighting the economic value of conventions at Cleveland Hopkins International Airport, and in Amtrak Acela trains running from DC, New York and up and down the Northeast Corridor to Philadelphia—and media outlets are paying attention.  
Image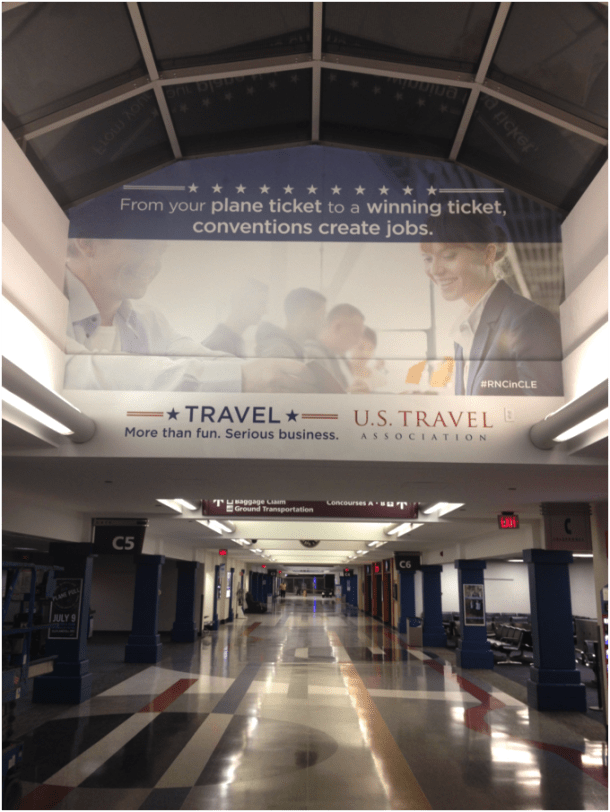 Image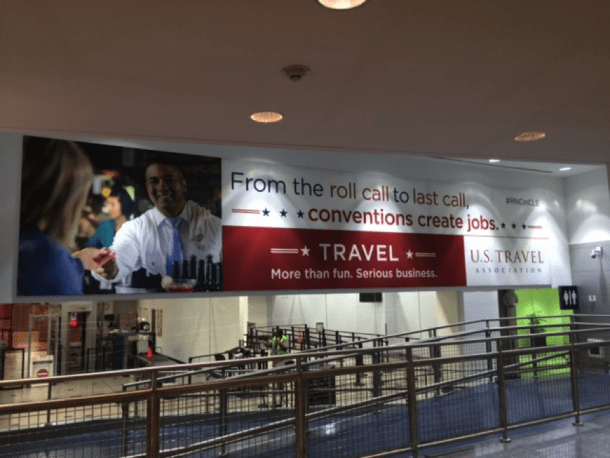 Image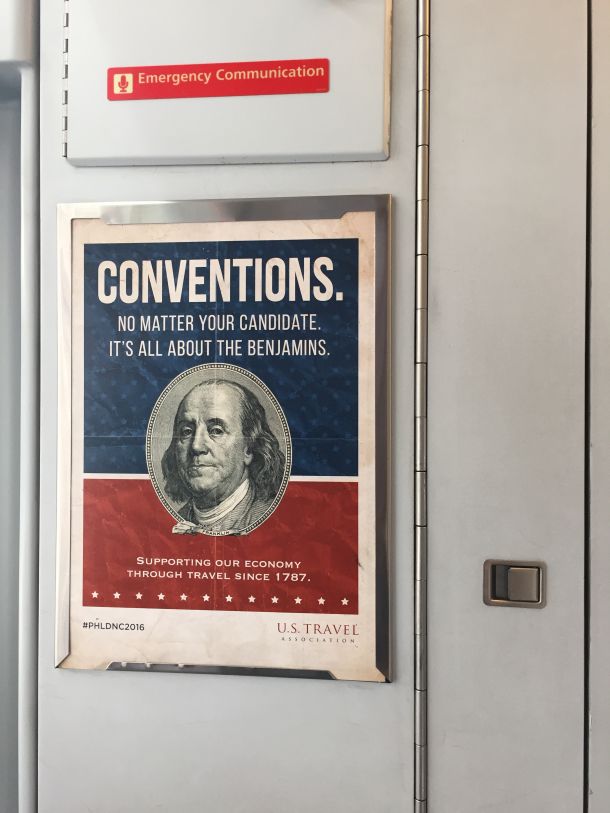 Image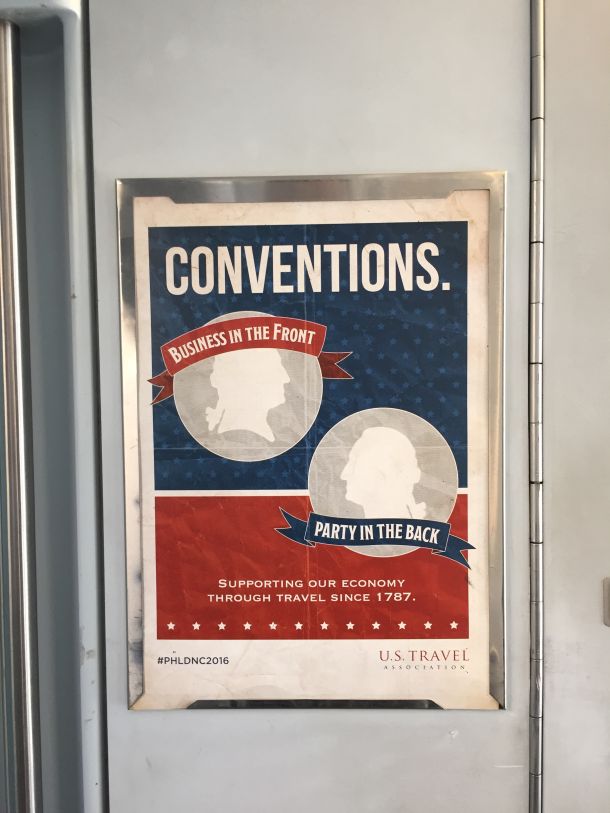 U.S. Travel also has a branding presence at each convention's POLITICO Hub lounge. We're sponsoring several "convention necessities" at these oases, including charging stations, pillows, chewable coffee cubes and oxygen bars.
POLITICO Playbook reporters talked up these amenities during a Playbook Live Breakfast in Cleveland with Roger Stone, Jr. (particularly the oxygen bar, which was bustling throughout Day One). 
#RNCinCLE! Check out the @USTravel Oxygen Bar at the #POLITICOHub that @mikeallen and @apalmerdc were discussing. Do it @RogerJStoneJr!

— Jack Smith (@jacksmith023) July 19, 2016
Image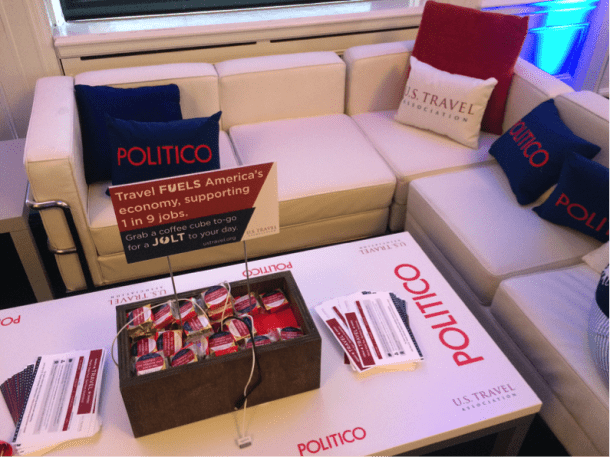 Image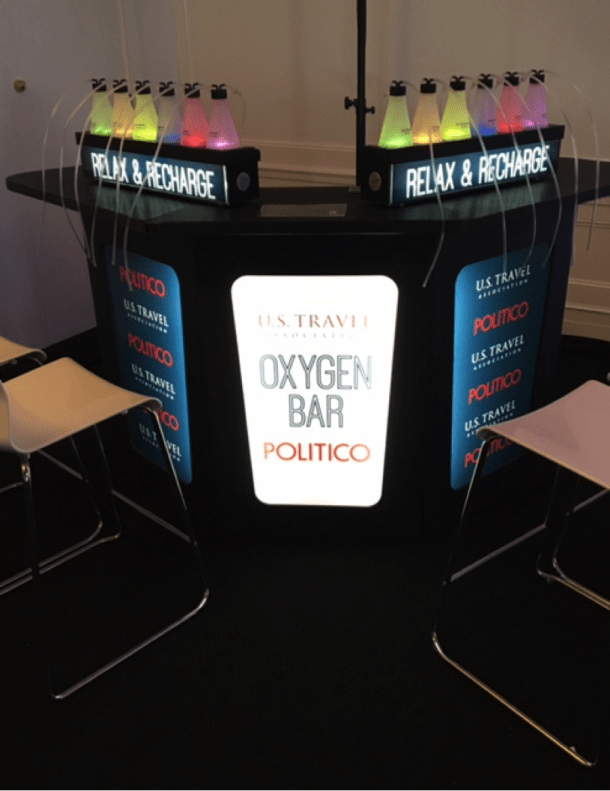 And finally, U.S. Travel continues to complement these efforts with a promoted social media campaign. 
There's sure to be talk of jobs at the #GOPconvention. By making your way to @TheCLE, you're actually creating them. pic.twitter.com/X7N08aJhg9

— U.S. Travel (@USTravel) July 15, 2016
From roll call to last call, conventions create jobs. #RNCinCLE #GOPconvention pic.twitter.com/hMbUmXCdyS

— U.S. Travel (@USTravel) July 17, 2016
Travel fuels 1 in 9 American jobs—not your avg. Joe industry. #DemsInPhilly: stop by #POLITICOHub to power your day. pic.twitter.com/AiaHEuYMug

— U.S. Travel (@USTravel) July 27, 2016
PHL's making history & creating American jobs for yrs to come. https://t.co/kiEjwcGpgs #DemsinPhilly #DemConvention https://t.co/7CMk8NonSS

— U.S. Travel (@USTravel) July 26, 2016
In this political cycle, there's one thing—possibly the only one thing—that's not in dispute: the positive economic impact of election-related travel and meetings. Policymakers should pay attention. 
---
CONTACT US
U.S. Travel
For more information about this blog, please contact us at: