Here's a sampling of some of April 2016's compelling findings from the U.S. Travel research team.
Each month, the U.S. Travel Association sends its members the U.S. Travel Outlook, which provides insight into the current state of the travel economy and related industry trends, plus other relevant data and information on the travel and tourism sector.
Here's a sampling of some of April 2016's compelling findings from the U.S. Travel research team.
How Do American Consumers Feel About the Economy?
Each month, U.S. Travel tracks employment and consumer confidence numbers, pulling data from the Bureau of Labor Statistics, Conference Board Consumer Confidence Index®, the University of Michigan Index of Consumer Sentiment and Gallup's U.S. Economic Confidence Index.
U.S. employment increased by 215,000 jobs last month and unemployment remained at five percent. In March 2016, consumer confidence rose to 96.2, up from 94.0 the previous month. According to a Conference Board analysis, while consumers' assessment of the current state of the economy posted a moderate decline, expectations regarding the near future turned more favorable, as last month's turmoil in the financial markets appeared to calm down. Overall, consumers don't seem to feel like the economy is going to vastly improve, but they don't feel like it'll worsen either.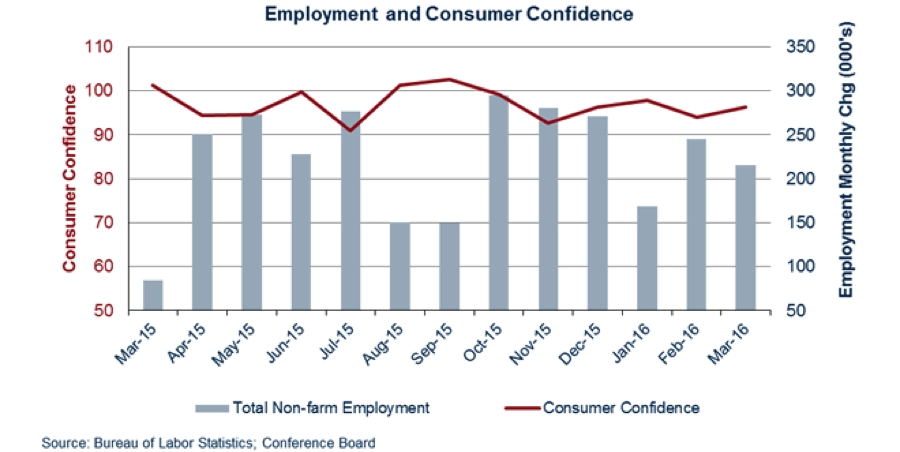 Where in America Has the Highest Hotel Earnings?
Revenue per available room (RevPAR) is a great way to gauge which U.S. regions are experiencing hotel room revenue growth, one of many excellent indicators of travel demand to the area. U.S. Travel relies on STR regional lodging data reports for RevPAR by U.S. Census region.
In February 2016, the Pacific region (which includes California, Oregon, Washington, Alaska and Hawaii) saw the highest positive change, with a 9.3 percent increase in RevPAR—much of which can likely be attributed to the San Francisco Bay area hosting the Super Bowl. The largest decrease in RevPAR occurred in the West South Central region (which includes Texas, Oklahoma, Arkansas and Louisiana). One of the main factors contributing to this decline could likely be the falling price of oil, which has led to a decrease in business travel and work assignments to these areas.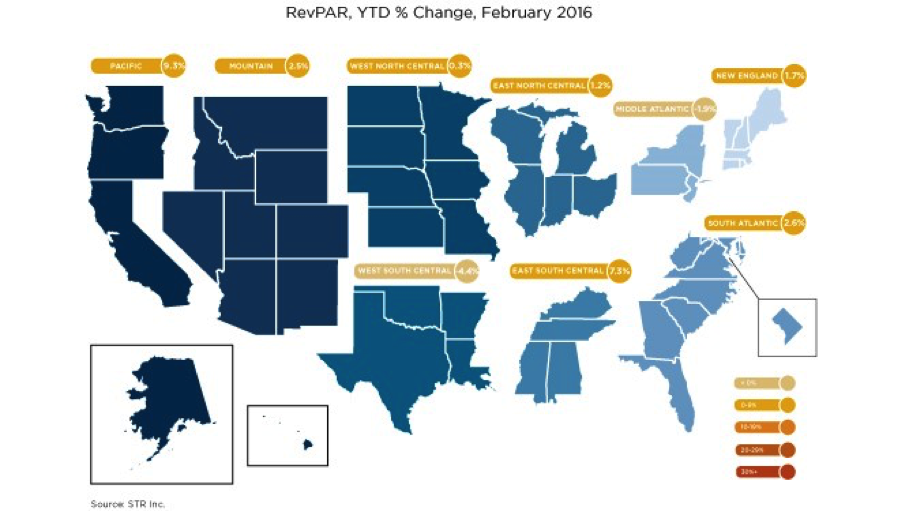 By the Numbers: Planes, Trains and Automobiles
U.S. Travel regularly analyzes data from various air travel associations (including Airlines for America and the Bureau of Transportation Services), Amtrak and the Federal Highway Administration in order to capture trends in air, rail and car travel.
Data from the Federal Highway Administration showed that in February 2016, vehicle miles driven in the U.S. held steady compared to February 2015.. Meanwhile, Amtrak train ridership increased two percent in February 2016 over the previous year—the first monthly year-over-year ridership increase since July 2015. Up in the skies, U.S. and foreign carriers flew more than 895 million passengers through U.S. airports, a record high that helped U.S. air travel post its biggest year-over-year increase (about five percent) in passenger enplanements since the beginning of the 2009 recession.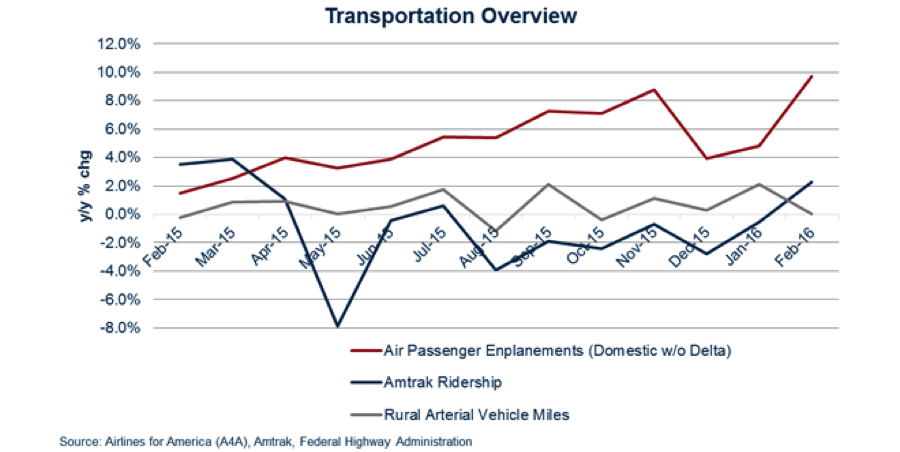 A deeper dive into the data available in the April 2016 U.S. Travel Outlook—which includes the latest data releases on travel employment, consumer confidence and more—is available online here.
U.S. Travel Association members receive the full U.S. Travel Outlook, plus a myriad of other cutting-edge research reports with information relevant to the travel industry. Learn more about the benefits of becoming a member here—or simply continue to enjoy a small taste of U.S. Travel's research insight each month here, with the Research Round-up.