Here's a sampling of October 2016's most compelling findings from the U.S. Travel research team.
Each month, the U.S. Travel Association sends its members the U.S. Travel Outlook, which provides insight into the current state of the economy and related travel industry trends, plus other relevant data and information on the travel and tourism sector.
Here's a sampling of some of October 2016's most compelling findings from the U.S. Travel research team.
Americans Are Sticking Closer to Home—Where Do They Want to Travel?
Eight in 10 U.S. residents expressed interest in a domestic trip during the next few months, according to the September U.S. Travel Barometer. For a variety of reasons, Americans are increasingly choosing to stay stateside this fall, and the domestic travel sector will likely benefit as a result.
The Southeast region of the U.S. (which includes Florida) remained the top target of U.S.-based advance lodging searches, capturing 30 percent of the total. The Southwest region (which includes Texas, Arizona, Oklahoma and New Mexico) came in a distant second with 20 percent, followed by the Far West (which includes California, Alaska and Hawaii) at 19 percent.
Despite the Southeast's hold on domestic travel searches, though, news of local Zika transmission in Florida may have had some impact on Americans' intent to travel to the state. One survey found that nearly 15 percent fewer Americans are planning to travel to Florida this fall and winter, compared to the same period in 2015. However, it remains to be seen whether final numbers will bear out this trend, and how it will affect a travel industry that has had to clear some hurdles to sustain its growth throughout 2016.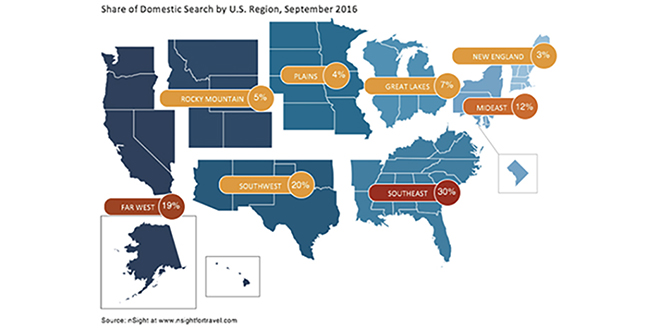 Consumer Confidence is Up Again—Will the Economy Follow Suit?
After an August rebound, American consumer confidence further improved in September. The Conference Board Consumer Confidence Index®, which had increased in August, rose again in September and is now at its highest level since the recession. The University of Michigan's consumer sentiment index is up as well, thanks to declining expectations of inflation in the near future.
More interestingly, though, is the fact that confidence remains high despite a relatively lackluster month of employment growth in September (including slower-than-usual expansion in the travel sector)—indicating that the economy may potentially be on the verge of escaping a nearly yearlong rut of anemic growth. This would be welcome news to the U.S. travel industry, which has—despite encouraging signs from a surge in travel searches to the U.S.—tempered growth prospects throughout the end of 2016 barring any major changes.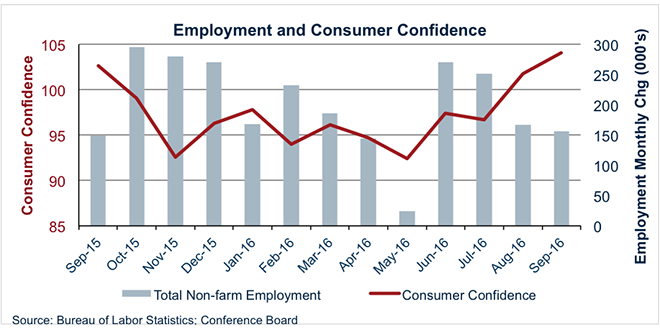 International Interest in U.S. Continues to Increase
As told in this month's Travel Trends Index, a volatile political season, a strong dollar and blanket news coverage of the Zika virus could not bridle the growth of America's travel industry—and surprisingly has not tempered international travelers' interest in the U.S. as a destination.
According to the latest U.S. Travel Barometer, that momentum continued in September, as America's share of international travel lodging searches increased to 16.8 percent. While interest in the U.S. remained strong, travel intentions to popular European destinations—whose share of international searches has already been low the past few months—were tepid.
The Southeast region of the U.S. remains the most-searched area by international travelers (capturing 27 percent of searches), and the Mideast (including New York and Washington, D.C.) stayed a close second—at 25 percent. Interest in the Southwest region continued to increase, reaching 13 percent—likely fueled in part by this year's National Park Service Centennial, as the Southwest (which includes Texas, Arizona and New Mexico), is home to 26 major U.S. National Parks.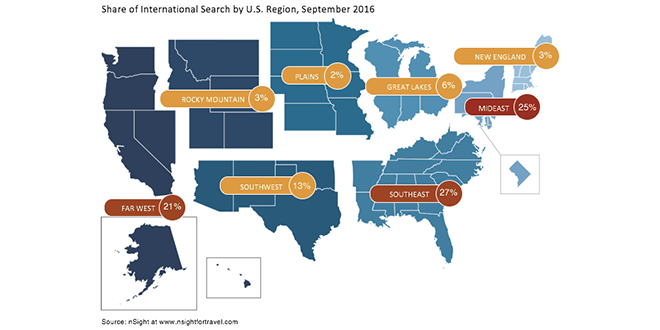 A deeper dive into the data available in the September 2016 U.S. Travel Outlook—which includes the latest data releases on travel employment, transportation, lodging metrics and more—is online here.
U.S. Travel Association members receive the full U.S. Travel Outlook, plus a myriad of other cutting-edge research reports with information relevant to the travel industry. Learn more about the benefits of becoming a member here—or simply continue to enjoy a small taste of U.S. Travel's research insight each month here, with the Research Round-Up.