U.S. Travel Association members receive the full U.S. Travel Outlook newsletter, plus a variety of other research resources, data and insights relevant to the travel industry. Learn more about the benefits of becoming a member here.
Here are some of December 2019's most compelling findings from the U.S. Travel research team. 
"Shop 'til you drop" mentality fuels third-quarter GDP growth
The year-end U.S. economic outlook has improved from previous worries of an oncoming recession. 
The U.S. Department of revised real GDP growth up to a 2.1% seasonally adjusted annualized rate (SAAR) for the third quarter, beating the initial estimate of 1.9% SAAR. This was fueled by strong consumer spending, which grew 2.9% SAAR in the third quarter and contributed nearly two full percentage points to third-quarter real GDP growth. 
Robust consumer spending to offset moderating consumer confidence
Strong consumer spending continued into the start of the fourth quarter, registering a 0.3% month-over-month gain in October. Despite consumer confidence falling for the fourth consecutive month in November, record stock prices and a strong labor report helped drive consumer sentiment near long-term highs for December, and expectations for the holiday shopping season remain strong. 
Image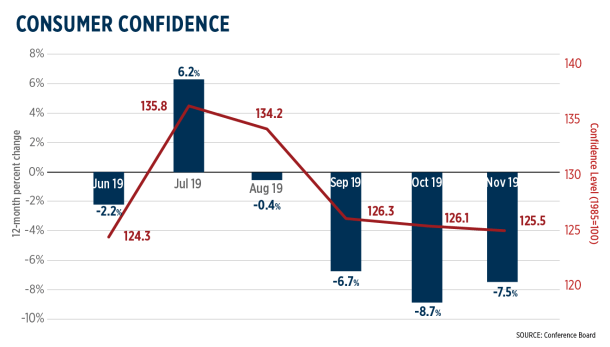 Jobs growth quiets economic slowdown fears…
What recession? A blockbuster November jobs report further assuaged recession concerns. The thriving U.S. labor market increased payrolls by 266,000 jobs while the unemployment rate edged down to 3.5%.  
The travel industry also enjoyed stellar job growth in November, with payrolls adding 15,800 travel-related jobs. In the first 11 months of 2019, travel job growth averaged 10,300 per month, which is higher than the 8,900 jobs added per month during the same period in 2018.
Image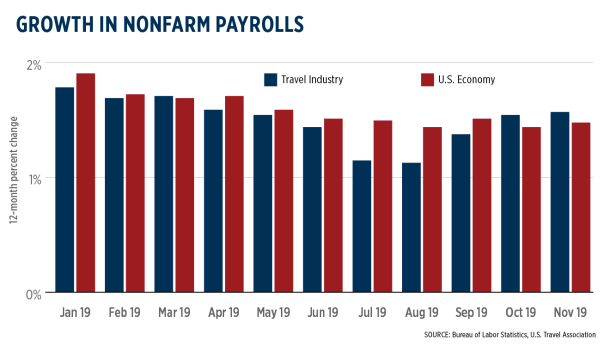 …but cooling business investment remains a cause for concern
Despite the thriving labor market, business investment remains subdued in the face of global headwinds and a slowing global economy. Business confidence surveys released in November showed that manufacturing business activity ground to a halt while services sector business activity remained solid but slowed. Purchasing managers blamed trade tensions between the U.S. and China as a key restraint for business decisions moving forward. On the flip side, the Federal Reserve reported that overall industrial production rose 1.1% in November after declining three times in the past four months. 
In addition, travel business activity kicked off the fourth quarter on a high note across several Federal Reserve districts, according to the Fed's November Beige Book.
Fourth-quarter GDP growth is unclear
GDP will grow, but by how much? The New York Fed predicts 0.6% SAAR growth for the fourth quarter off poor business investment readings, while the Atlanta Fed predicts 2.0% SAAR growth from the uplifting jobs report. 
Oxford Economics remains optimistic (1.9% for Q4) but notes that the economy will slow further into 2020, as "the maturing labor market" will be "constrained by global headwinds, trade tensions, slower energy activity and cooling domestic demand." Moreover, Oxford Economics revised upward the chances of a 2020 recession to 35-40%—a level, they suggest, that would be "elevated but not alarming."
Chinese students flock to U.S. amid trade tensions 
Overall trade volume declined in October as the U.S. introduced new tariffs on Chinese imported goods. The travel trade surplus also declined, though travel exports remained flat. China, however, continues to be the largest source of international students to the U.S., making up over one-third of the nearly 1.1 million international students traveling to the U.S. in 2019. 
Surging domestic leisure travel carries weak business and international segments
The latest Travel Trends Index reported that travel to and within the United States grew 2.2% year over year in October. Domestic business travel declined 1.6% and underperformed its six-month trend (0.8%). Fortunately, the strength of domestic leisure travel (4.4%) offset the struggling business travel segment and kept overall domestic travel in positive territory at 2.6% growth.
Domestic travel is predicted to grow 1.7% in 2019, driven largely by strong personal income, employment, consumer confidence and spending. International inbound travel growth, which has oscillated between positive and negative territory in 2019, was flat in October. The Leading Travel Index (LTI)—the predictive component of the TTI—projects inbound travel volume will decline 0.8% over the next six months as prolonged trade tensions and the high value of the dollar continue to weigh on demand for travel to the U.S.
For the year, international inbound travel to the U.S. is expected to decline by 1.0% in 2019—driven mostly by declines from Canada (-3%) and Mexico (-4%). Overseas visitation is forecast to increase 1.5% for the year. The persistently strong dollar and enduring trade and political tensions have contributed to the declines in international inbound travel to the U.S.
Hotel performance indicators off year-over-year trends
Other travel-related trends to end the year include the second straight month of decline in revenue per available room (RevPAR) in October, indicating the start of a downcycle. 
RevPAR for the U.S. declined 1.2% in October, while occupancy declined 0.8% and average daily rate declined 0.5%. This decline marks the first time that U.S. ADR was down since March 2010, which is when the current upturn began. Still, the recently revised Tourism Economics and STR forecast is predicting slight positive RevPAR growth in 2020 (0.5%). With demand growth slowing to 1.5%, it will not be enough to overcome 2% supply growth; occupancy is forecast to decline 0.4%. 
Image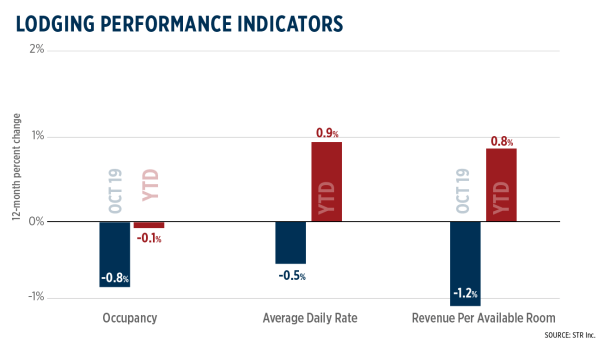 U.S. Travel updates
Recently updated country profiles are now available for Poland, Brazil, Israel, India, Japan and Germany. 
Wishing you a happy holiday and a prosperous New Year. In 2020, be on the lookout for an updated and refreshed U.S. Travel Outlook focusing on key economic, consumer, business and travel indicators.
---
CONTACT US
U.S. Travel
For more information about this blog, please contact us at: