World Tourism Day Spotlights Value of Travel Jobs Around the World
September 26, 2019 By U.S. Travel Association
Join the celebration of travel's global contributions on September 27
Every year, World Tourism Day celebrates travel's many contributions to our economies, jobs and cultures—similar to our National Travel and Tourism Week, but on a global scale. This year's theme is one that rings especially true in the U.S.: "Tourism and Jobs: A Better Future for All," to raise awareness of travel's role in providing opportunities for workers around the world.  
Image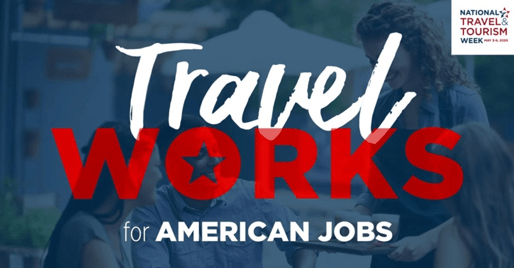 Here in the U.S., travel is our seventh largest employer, and the industry directly employs 8.9 million workers and supports 15.7 million Americans across almost all U.S. industries.
While these numbers are impressive, the quality of jobs is what makes our industry so unique. Travel jobs provide upward mobility and teach valuable skills for future success. Nearly four in 10 (38%) of Americans' first jobs were in travel, and a third of that number go on to earn a bachelor's degree.
Careers in travel are also accessible, regardless of location, background or upbringing. Americans in all pockets of the country benefit from travel and tourism, with job opportunities in all 435 congressional districts. Nearly all states—and the District of Columbia—count travel among its top 10 industries for employment.
But one of the main reasons this industry is so successful—and is most likely to continue hiring, despite the growth of technology—is because of the people working in travel and tourism. The qualities that lead to success in the travel industry reflect our country's core values: determination, reliability and a positive attitude. Hospitality, superior customer service and a human connection is what makes a trip into a memory, inspiring future travel.
That's one of the main reasons U.S. Travel advocates for our industry—so we can support the millions of hard-working Americans who make our industry, and our country, thrive.  
Our aim is to strengthen and grow the travel industry workforce by focusing on policies that efficiently facilitate secure travel to and within the U.S.—and have proven successful in creating opportunities for Americans. Such policies include:
Reauthorizing Brand USA, a program that has created 52,000 jobs in the U.S., so we can continue welcoming visitors to explore all the U.S. has to offer.
Expanding the Visa Waiver Program to include more qualified countries, such as Poland, Brazil and Israel. If these three countries were admitted, the increase in visitors would support an estimated 48,800 American jobs.
Modernizing trade agreements, particularly by ratifying the USMCA to increase visitation from the top two inbound markets, which would create 15,000 American jobs.
We encourage you to join the conversation on September 27 using the hashtag #WTD2019. Share how travel jobs strengthen your community and celebrate the faces of travel who contribute to your destination or organization.
Learn more about how our industry works for American jobs in our report: Travel's Contribution to Workforce Development and Career Advancement. 
---
CONTACT US
U.S. Travel
For more information about this blog, please contact us at: