Destination Travel Leaders Convene for ESTO 2022 in Grand Rapids
PRESS RELEASE August 08, 2022
GRAND RAPIDS -
More than 1,000 travel leaders gathered in Grand Rapids, August 6-9, for the U.S. Travel Association's Educational Seminar for Tourism Organizations (ESTO), the nation's premier learning and knowledge-sharing event for destination marketing professionals.
ESTO annually brings together tourism professionals from across the United States for three days of focused educational sessions on emerging trends and tools in destination marketing, with opportunities to share best practices among colleagues and discuss pressing issues and opportunities facing the travel and tourism industry as it continues to build its recovery.
This year's program, held at the DeVos Place Convention Center, included keynote general session remarks by speakers such as Jerry Jacobs Jr., CEO, Delaware North, Jeremy Gutsche, CEO of Trend Hunter and Eric Termuende, co-founder of NoW of Work. More than 30 breakout sessions addressed topics such as travel marketing and technology, communications and public relations, data and insights, and equity, diversity and inclusion in the travel industry.
Image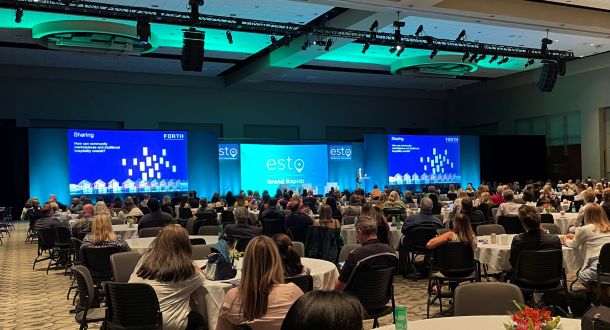 An annual highlight of ESTO is the presentation of the State Tourism Director of the Year award and the Destiny and Mercury awards for achievements in destination marketing.
Tourism's local impact
Tourism is crucial to local economies around the country, including in Grand Rapids. According to Experience Grand Rapids, over 19.3 million travelers visited the Grand Rapids/Kent County area in 2019, creating a $1.4 billion economic impact and more than 27,000 jobs for the destination. Moreover, tourism in Grand Rapids generates $176 million in state and local taxes.
Experience Grand Rapids estimates that the economic impact of hosting ESTO in the city is more than $1.8 million. 
Please click here to learn more about ESTO. 
Please click here to learn more about tourism's impact on the U.S. economy.
---
U.S. Travel Association is the national, non-profit organization representing the $1.2 trillion travel industry, an essential contributor to our nation's economy and success. U.S. Travel produces programs and insights and advocates for policies to increase travel to and within the United States. Visit ustravel.org for information and recovery-related data.
CONTACT US
David James
Vice President, Media Relations
---