Travel to and within the U.S. grew four percent year-over-year in June, according to the U.S. Travel Association's latest Travel Trends Index (TTI)—marking the industry's 102nd straight month of overall expansion.
Despite this positive trend, U.S. Travel economists remain wary that growth of international inbound travel to the U.S. is not keeping pace with the global long-haul travel boom.
Most notable in the TTI is the strength of domestic business and leisure travel, buoyed by near-historic highs in consumer confidence and growth in forward-looking bookings and searches. According to the Leading Travel Index, domestic travel is expected to increase by approximately 2.6 percent in the next six months. While this is good, there are reasons to believe that the elevated level of consumer confidence may be short-lived.
"For the first time in the history of the Travel Trends Index, both the business and leisure segments of domestic travel expanded every month during the first half of the year," said U.S. Travel Senior Vice President for Research David Huether. "However, rising oil prices and trade uncertainty—particularly with regard to tariffs—have the potential to dampen consumer confidence."
Through the end of the year, international inbound travel to the U.S. is expected to continue to grow at a rate of 2.2 percent. However, U.S. Travel economists note that the U.S. is well off the pace of long-haul travel worldwide, projected to increase six percent in 2018.
Also, U.S. Travel researchers say, storm clouds continue to gather in the form of trade tensions and rising oil prices.
"Facing these potential headwinds, we urge officials to support policies and messaging that will make clear to the world that the U.S. is open and eager for business," said Huether.
Despite solid economic activity bolstering both domestic and international travel through the first half of the year, the rate of growth is not brisk enough to help the U.S. regain its slipping share of the global travel market.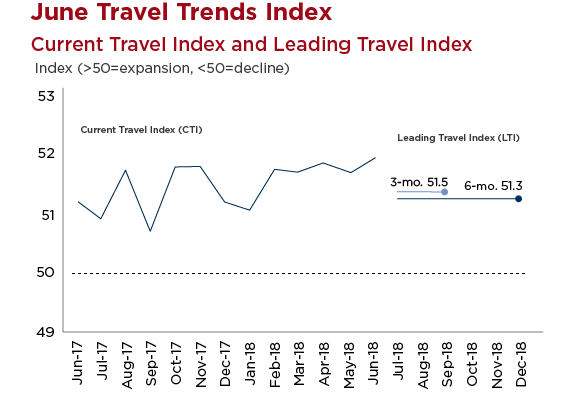 The TTI is prepared for U.S. Travel by the research firm Oxford Economics. The TTI is based on public and private sector source data which are subject to revision by the source agency. The TTI draws from: advance search and bookings data from ADARA and nSight; airline bookings data from the Airlines Reporting Corporation (ARC); IATA, OAG and other tabulations of international inbound travel to the U.S.; and hotel room demand data from STR.
Click here to read the full report.
U.S. Travel Association is the national, non-profit organization representing all components of the travel industry. In 2020, travel generated $1.5 trillion in economic output and supported 11 million jobs, a drastic decline from pre-pandemic figures. U.S. Travel's mission is to increase travel to and within the United States. Visit ustravel.org for information and recovery-related data.