If current trends continue, Labor Day-like traffic will soon plague U.S. highways on the average day of the week, according to analysis prepared for the U.S. Travel Association.
If current trends continue, Labor Day-like traffic will soon plague U.S. highways on the average day of the week, according to analysis prepared for the U.S. Travel Association.
The study examined highway usage data and growth rates along 16 key interstate corridors nationwide. Its conclusion: without investment and policy changes, average daily car volume will soon surpass that of the notoriously congested first weekend of September—within a decade in some places.
Given that major transportation projects can take 15 years to complete, timely relief is already beyond reach in some locales. There is still hope for other major highways, but only if leaders act soon.
"Traveling with relative ease cannot be taken for granted, whether it's for business or pleasure," said Roger Dow, president and CEO of the U.S. Travel Association. "If the average day on the road resembled those brutal periods when bumper-to-bumper traffic is the norm, it would devastate our economy and way of life. For a great number of America's major corridors, that day is not that far down the road."
The 16 interstate segments included in the analysis were selected for their geographical diversity and the quality of the traffic data available for them. Together, they provide a reliable snapshot of the growing congestion on America's highways, according to Cambridge Systematics, the firm that conducted the analysis.
Map Labor Day-Like Congestion
Below is a table showing how soon the 16 individual corridors will resemble comparable traffic congestion on Labor Day Weekend: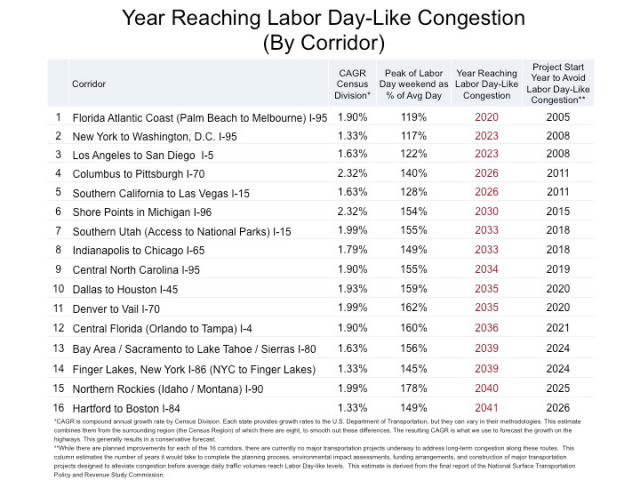 More details on the study's findings and methodology can be found here.
The Labor Day highway analysis is the first portion of a broad, multi-modal examination of travel infrastructure that U.S. Travel will release in installments through the fall.
Highways are not the only travel mode strained by extra volume on Labor Day weekend. A number of the nation's largest airports experience passenger volume peaks on Labor Day: Logan International Airport in Boston (171% of the daily average); Baltimore-Washington International Thurgood Marshall Airport (177%); LaGuardia Airport in New York (194%); Hartsfield-Jackson International Airport in Atlanta (219%); and, with the largest spike of all, Bob Hope Airport in Burbank (237%).
According to a new survey, 58 percent of recent Labor Day travelers said they would significantly alter their yearly travel habits if U.S. highways experienced Labor Day-like conditions on the "typical day." More than 38 percent of respondents would avoid at least one-to-five trips per year; while almost one in five travelers (19.5%) said they would stop taking long-distance trips altogether. To put these findings in perspective, if auto travelers avoided just one auto trip per year, the U.S. economy would lose $23 billion in travel spending, expenditures that would directly support 208,000 American jobs.
"While some improvements have been made in the last decade, the current level of investment is not nearly enough to prepare us for what's ahead," said Dow. "There is simply too much at stake for our economy and quality of life to let travel in America grind to a halt."
To prevent this crisis, the U.S. Travel Association in the coming months will propose a wide variety of policy prescriptions. Policies under consideration include: targeted investments in alternative modes of transportation; more flexible funding options for U.S. gateway airports; and the expanded use of innovative funding and public and private partnerships for nationally significant transportation projects.
Early analysis of the aviation data compiled for the broader study supports the popular belief that Thanksgiving is the peak domestic air travel day by total passenger volume. U.S. Travel plans to release the study's portion on air travel trends prior to Thanksgiving.
U.S. Travel Association is the national, non-profit organization representing all components of the travel industry. In 2020, travel generated $1.5 trillion in economic output and supported 11 million jobs, a drastic decline from pre-pandemic figures. U.S. Travel's mission is to increase travel to and within the United States. Visit ustravel.org for information and recovery-related data.