U.S. Travel Outlines Policies to Grow Domestic, International Segments, Boost Economy
Reveals new survey of Americans' opinions, concerns with air travel system.
PRESS RELEASE February 01, 2023
WASHIGNTON -
The U.S. Travel Association today launched a new quarterly press conference, led by the association's President and CEO Geoff Freeman and incoming U.S. Travel National Chair and Hilton President and CEO Chris Nassetta. Together, they offered an industry perspective and recommendations across a set of issues critical to America's travel economy, including U.S. visa processing, the domestic aviation system, as well as insights and projections for business and leisure travel.
Each quarter, the association's new Travel Outlook press conference will focus on topics of importance to the growth of travel.
Image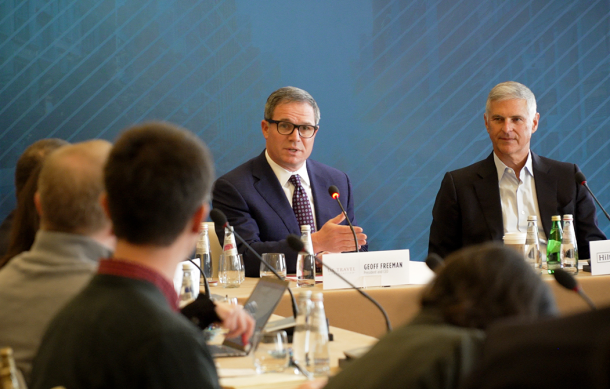 "Travel is essential to the U.S. economy, and both the public and private sectors have roles in getting this industry to its full potential," said Freeman. "But when we talk about the travel industry, we're really talking about every industry, how travel's growth and success is integral to practically everything from manufacturing to education and far beyond."
"We see a number of key opportunities ahead to drive our future growth," said Chris Nassetta, President and CEO of Hilton and incoming national chair of U.S. Travel Association. "Travel plays a critical role in America's economic success, but it's much more than that—our industry positively impacts people's lives. I look forward to working even more closely with U.S. Travel, along with our partners across government and industry, to increase travel to and within the United States."
Key policy priorities discussed today that will enable stronger travel growth include:
International inbound travel
Decrease unacceptable visitor visa wait times, which total more than 400 days worldwide in the United States' top 10 visa-requiring markets
Eliminate the vaccine requirement for international visitors
Restore the Chinese inbound travel market and ensure processing operations run efficiently as demand increases
Domestic travel
Improve the air travel system and create a seamless and secure travel experience from end to end, beginning with opportunities this year as Congress works to reauthorize the Federal Aviation Administration
Get the federal workforce back to the office and encourage the return of government business travel
Leverage the 2022 Bipartisan Infrastructure Act to enable better traveler mobility options within our nation's travel infrastructure
U.S. Travel also spoke to findings of a new Ipsos Poll field survey, conducted between January 13 and January 22, highlighting pain points in the travel experience, which will help inform the association's work to modernize the entire travel system. Of note: 
The air travel experience is sub-par for nearly half of Americans: Just one in 10 Americans who have flown by air (13%) rate their overall travel experience as excellent while nearly half (45%) rate it as average or below average

Crowds and congestion, flight delays or cancellations, airport security process and cumbersome travel logistics were the main contributors to a less-than-excellent travel experience

Approximately half of Americans are comfortable sharing biometric data with TSA—such as fingerprints and facial recognition—for a more seamless travel experience
"The latest data is a clear sign that significant upgrades are needed to kickstart a reimagined air travel experience that works for all Americans," added Freeman.
Please click here to see a video recording of remarks by U.S. Travel's Freeman and Hilton's Nassetta.
---
U.S. Travel Association is the national, non-profit organization representing the $1.2 trillion travel industry, an essential contributor to our nation's economy and success. U.S. Travel produces programs and insights and advocates for policies to increase travel to and within the United States. Visit ustravel.org for information and recovery-related data.
CONTACT US
Greg Staley
Senior Vice President, Communications
---