U.S. Travel's IPW in San Antonio Sets Stage for Future Inbound Travel Growth
PRESS RELEASE May 23, 2023
WASHINGTON -
Nearly 5,000 attendees from more than 60 countries gathered in San Antonio, Texas, May 20-24 for the 54th annual IPW—the travel industry's premier international marketplace and the largest generator of inbound travel to the United States.
"The thousands of attendees we welcomed this week is indicative of the strong demand we are seeing for inbound travel to the U.S.," said U.S. Travel Association President and CEO Geoff Freeman.
IPW convened domestic travel professionals together with international tour operators, buyers and wholesalers from around the world, to meet under one roof—the Henry B. González Convention Center—for 90,000 scheduled business appointments over three days that will draw future travel and tourism business to the U.S.
The delegation also included nearly 500 members of the international and domestic media. Reporters covered the event itself, and also met with travel business and destination leaders at the Media Marketplace to generate reporting on travel to the U.S.
In a Tuesday press conference, Freeman—in his first IPW since joining in September 2022 to lead the association—noted U.S. Travel's efforts to address barriers restricting international inbound travel growth, while also highlighting opportunities to enhance the sector.
Image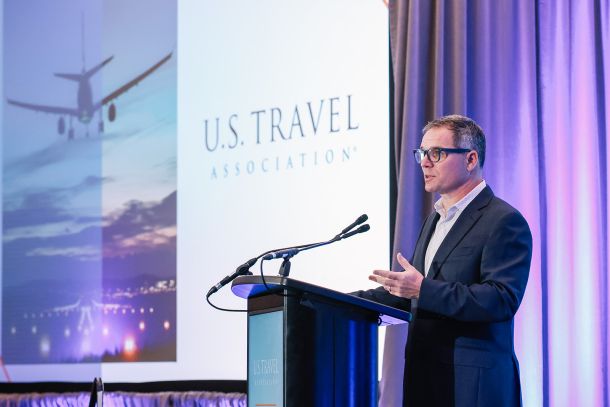 "As a country, we need to stay competitive; to see around the corners and anticipate challenges that weren't on our radar five or 10 years ago," said Freeman during the press conference. "We need to be constantly evolving to meet new demands and to ensure our entry process is not only secure, but simple and welcoming."
Steps To Growing Inbound Travel
Freeman detailed four examples of how the U.S. federal government can improve and increase inbound travel:
Lowering visitor visa interview wait times, which average more than 500 days in the top 10 visa-requiring markets worldwide (excluding China, which has yet to fully resume outbound flights) for first-time applicants;

Current average wait times are 527 days in Brazil, 406 days in India and 647 days in Mexico.

Addressing entry delays at U.S. Customs;

Last month, international visitors at top U.S. airports frequently experienced average wait times of more than an hour.

Improving the air travel experience through a 10-year strategic vision; and
Increasing competitiveness in the global travel market.
This is the first time San Antonio has hosted IPW, and the first time a Texas city has hosted the event since 2000 in Dallas.
Brand USA returned as premier sponsor of IPW. American Express is the official card of the U.S. Travel Association.
The 55th annual IPW will take place May 3-7, 2024, in Los Angeles.
---
U.S. Travel Association is the national, non-profit organization representing the $1.2 trillion travel industry, an essential contributor to our nation's economy and success. U.S. Travel produces programs and insights and advocates for policies to increase travel to and within the United States. Visit ustravel.org for information and recovery-related data.
CONTACT US
Greg Staley
Senior Vice President, Communications
---