Visa Wait Times Remain Embarrassingly High for Millions of Potential U.S. Visitors
White House leadership needed as first-time applicants in top markets continue to wait 400+ days on average for U.S. visitor visa
PRESS RELEASE March 23, 2023
WASHINGTON -
New analysis from U.S. Travel Association shows a concerning lack of progress to dramatically reduce interview wait times for first-time visitor visa applicants—which still exceed a year in the top 10 visa-requiring markets to the U.S.
"Millions of potential visitors to the U.S.—who want to come here to purchase American products, see their families and otherwise support the American economy—have no choice but to plan trips years in advance or go elsewhere, given these outrageous wait times," said U.S. Travel Association President and CEO Geoff Freeman. "It's completely unacceptable and sends a message to the world that international visitors—and their spending—aren't welcome here."
Image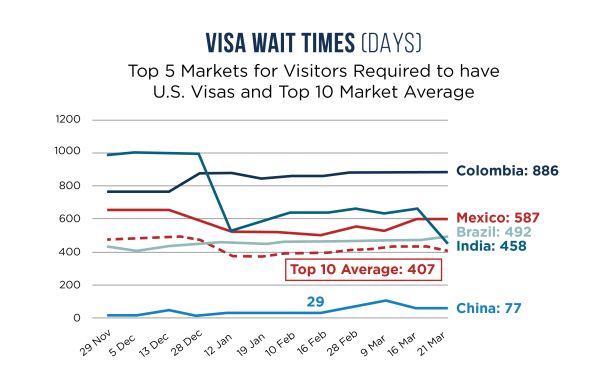 Average current wait times for a first-time visitor visa interview in some of the largest visa-requiring markets for inbound travel to the U.S. (as of March 21):
Colombia: 886 days
Mexico: 587 days
Brazil: 492 days
India: 458 days
China: 77 days
USVisaDelays.com—part of U.S. Travel Association's "They Wait, We Lose" initiative—highlights the toll excessive visitor visa wait times have on potential visitors and U.S. businesses.
Losing the competitive edge
Other countries with whom the U.S. directly competes for international visitor spending have taken steps to facilitate more seamless visitation. For example, the United Kingdom in November dropped its visitor visa requirement for Colombia, a top inbound market to the U.S. currently facing average wait times of nearly 900 days. Further, the U.S. is also the only country that still has a vaccine requirement for international visitors.
"Travel leaders worldwide are focusing on the economic opportunity of increased travel and passionately competing to attract global travelers, while the U.S. government has maintained roadblocks in the form of excessively long visa wait times and an outdated vaccination policy for entry," said Freeman.
U.S. Travel Association estimates a loss in 2023 of 2.6 million visitors and $7 billion in spending due to likely international travelers' inability to secure a visitor visa. These losses make it more difficult to achieve the Biden administration's goal of attracting 90 million international visitors and $279 billion in spending annually by 2027.
"The State Department has not yet done enough to solve this problem, and the vexing lack of progress is hindering the growth of the broader U.S. economy," added Freeman.
Wait times reflect weighted averages of embassy-level data released by the U.S. Department of State.
---
U.S. Travel Association is the national, non-profit organization representing the $1.2 trillion travel industry, an essential contributor to our nation's economy and success. U.S. Travel produces programs and insights and advocates for policies to increase travel to and within the United States. Visit ustravel.org for information and recovery-related data.
CONTACT US
Greg Staley
Senior Vice President, Communications
---