While the latest travel data reflects the dire situation that we face, it is very useful when speaking with Congress, the administration and government leaders about the urgent need to provide relief to our industry now. We also know that real-time insights are critical to detecting shifts in traveler behavior and sentiment so that you can plan appropriately for the future.
Note: This page will be updated every Thursday with new travel industry data. 
The Great Travel Depression
New analysis reveals that while the economy is in the midst of a recession, the travel industry is in a depression: overall travel industry unemployment is 51%—twice the unemployment of the worst year of the Great Depression. View the full fact sheet. 
Economic Impact of Coronavirus 
A new analysis by Oxford Economics models the economic impacts of the travel industry from expected downturns in terms of GDP, unemployment and taxes. View the full analysis from April 15.
The U.S. economy is projected to lose 8 million jobs by the end of April
Travel industry losses will result in a GDP impact of $1.2 trillion in 2020
Travel declines in 2020 will result in a loss of $80 billion in taxes this year

Weekly Analysis
New analysis by Tourism Economics shows a week-by-week outlook on travel spending in the U.S. including a look at regional and state-by-state breakdown. Findings from the May 21 report:
National weekly travel spending rose slightly to $3 billion last week (its highest level since the week ending April 4) as the benefits of easing lockdown measures continue to take hold

In the week ending May 16, the travel economy witnessed its third-consecutive week of expansion since the start of the pandemic but still registered 86% below last year's levels (an $18.9 billion loss)
Since the beginning of March, the COVID-19 pandemic has resulted in over $176 billion in cumulative losses for the U.S. travel economy
Hawaii, Massachusetts, Illinois and Washington, D.C. suffered declines exceeding 90% last week
On the other hand, the number of states enduring weekly losses of less than 80% increased further last week from nine to 11 states
Declines in travel spending have caused a loss of $22.7 billion in federal, state and local tax revenue since March 1

Tracking Search and Booking Behavior 
Track travel-related consumer behavior and strategize how to adapt to changing trends with ADARA's real-time data. See total searches and bookings week to week. Updated daily
Car: Daily Trends Tracker
The Daily Travel Index  from Arrivalist measures consumer road trips of 50 miles or more by residents from all 50 U.S. states. The data is drawn from a panel of GPS signals representing consumer road trips taken by car. Updated approximately every 48 hours
Tracking Traveler Sentiment​
Take advantage of Longwoods International's key findings on traveler sentiment around coronavirus to better navigate the current travel environment. Highlights from the May 19 survey:
Most Americans do not yet feel safe traveling outside their home communities:

35% would be comfortable doing so today
40% would not
25% are neutral

 Most Americans do not yet feel safe opening their communities to visitors

31% are supportive of opening up to visitors
45% are not
24% are neutral

Americans view positive advice from federal health officials as the most important sign that it is safe to plan domestic travel:

54% view official advice from the CDC and other federal health experts as a key cue that it is safe to travel
33% view federal government advice as a key cue
33% view a relaxation of social distancing rules in their state and surrounding areas as key cues
Insights into Americans + Travel 
This weekly survey by Destinations Analysts tracks key consumer perceptions, attitudes and behaviors of American business and leisure travelers. Key findings from May 18:  
The percent of American travelers saying they are avoiding travel until the coronavirus situation is over has fallen back to where it was on March 15 (62%) compared to early April (82%)
Millennials and GenZ travelers are showing higher levels of excitement to travel within the next month than Baby Boomers. They are also more motivated by travel by price-cuts and discounts (46% versus 23%)
Most American travelers say they are likely to take a staycation rather than a vacation this summer (63% of those in the Northeast say so, compared to 51% of those in the Midwest)
Three-quarters of Americans who plan to travel this year will research how the destination they visit and its businesses are managing the coronavirus situation—demonstrating the need for destination-level information on safety 
Most American travelers are planning to follow safety precautions on their next trip:

64% say they will follow social distancing guidelines
59% say they will avoid crowds
57% say they will wear a face mask

Of the 64.1% of American travelers who have one or more trips at least tentatively planned this year, seven in 10 have taken some action towards their very next trip, including: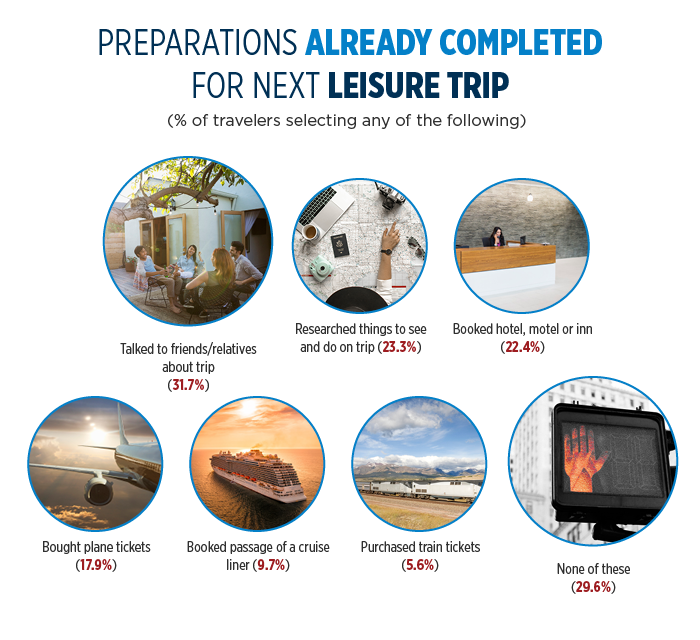 The percent of conference/convention travelers saying they are avoiding these events until the coronavirus situation is over is at a 9-week low (67.5%)
The Harris Poll COVID-19 Tracker
The following are some of the highlights that are related specifically to travel within the COVID-19 Harris Poll Tracker (fielded May 15 to 17, 2020):
Although the majority of Americans (53%) anticipate putting off their next vacation until 2021, there are segments of the population that are more eager than others
Of "Eager travelers," those who travel the most in general, with an average of 3-4 leisure trips and 2-3 business trips in the past year, more than half are comfortable:

Renting a car (66%)
Staying in a hotel or Airbnb (66% and 57%, respectively)
Taking an Uber/Lyft/Cab (53%) or flying (52%)

Most "eager travelers" (60%+) agree that hotels and airlines have implemented enough new cleaning procedures to protect them against the virus and have already done enough to reassure them that they will be safe
A large majority of the "comfortable retired" segment say the following practices would have a moderate or major impact on their likelihood of flying this year, leaving a window of opportunity for airlines:

Sanitizing the aircraft completely between flights (82%)
Strictly enforced cleaning/sanitizing practices at airports (79%)
Keeping all middle seats empty (72%) 
Coronavirus Social Listening
Meredith Travel Marketing's Social Listening Report (May 7-14) analyzed the discussion and trends in social media conversations. Key findings: 
The conversation around coronavirus is down by 11% in the last week vs. the previous week (May 7-14) and down 79% from the mid-March peak

The conversation is negative at -53%. 

COVID-19-related news/deaths/cases drives the most negative sentiment

"recovery", "reopening", "coronavirus testing", "vaccine" drives the positive sentiment. 

Coronavirus and quarantine-related hashtags #covid19, #stayhomesavelives are most frequently used
Coronavirus + Travel conversation decreased by 1% in last week vs. previous week (May 7-14)
​SEO Insights
Key findings from Keywee when analyzing SEO trends during May 2020:
Coronavirus content consumption continues to drop, with a decrease of 14% week over week
Content on how to keep people occupied at home continues to rise
Travel content is starting to shift to local traveling and local businesses (like restaurants) and traveling solutions within the traveling boundaries (discovering your town/city, road-trips with a caravan, fishing/lakes, etc.)
Content about "what we can't wait to see or go when we can travel..." is starting to rise along with informative articles to let people know when and what is allowed in the traveling world
Impact of Coronavirus on Travel Intentions
MMGY's recent survey  tracks traveler sentiment and looks at impact on travel with regard to planning, booking and cancellations, as well as intention to travel over the next six months. Key findings from May 1-6:
Approximately one-third of travelers remain committed to postponing, rather than canceling, scheduled travel for the months ahead
Most respondents do not feel safe today in any public venue:

34% feel safe today in parks
31% feel safe today at grocery stores/supermarkets
14% feel safe today at outdoor concerts/festivals

Only 13% of respondents say they feel safe having visitors in their home towns at this point
One in five travelers are willing to drive 500 or more miles one-way for a leisure trip during the next six months
---
WEBINAR: On Thursday May 21, a panel of industry voices focused on how the travel industry, and DMOs in particular, can utilize research to inform their approach to recovery moving forward. 
Click to view the key takeaways and KPIs for DMOs to consider that were discussed during this webinar. 
Kristen Jarnagin, president and CEO, Discover Long Island
Sara Meaney, secretary-designee, Wisconsin Department of Tourism
Matt Clement, senior vice president of marketing, Arrivalist
Ted Sullivan, vice president, ADARA
Amir Eylon, president and CEO, Longwoods International
---
WEBINAR: On Thursday May 14, representatives from Engagious walked through their latest Back-to-Normal Barometer. Highlighting the assurances travelers are looking for in order to feel safe traveling again. You can watch the full recording or review the slide deck.
---

---
If you would like to subscribe to our COVID-19 email updates for the travel industry, click here.