While the latest travel data reflects the dire situation that we face, it is very useful when speaking with Congress, the administration and government leaders about the urgent need to provide relief to our industry now. We also know that real-time insights are critical to detecting shifts in traveler behavior and sentiment so that you can plan appropriately for the future.
Note: This page will be updated every Thursday with new travel industry data. 
Travel Forecast
The latest forecast prepared for the U.S. Travel Association by Tourism Economics projects visitation and travel spending (both domestic and international). 
Through the end of 2020, the report estimates $505 billion in losses for the travel industry for a total of $81 billion in lost federal, state and local taxes by the end of 2020. The travel industry is not expected to recover until 2024.
The three recovery initiatives would generate an estimated $71 billion for the travel industry by the end of 2021, delivering $163 billion in economic output and restore nearly 800,000 jobs.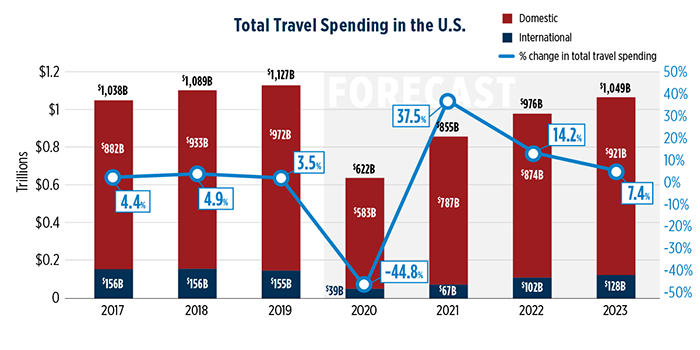 Weekly Analysis
New analysis by Tourism Economics shows a week-by-week outlook on travel spending in the U.S. including a look at regional and state-by-state breakdown. Findings from the August 6 report: 
Travel spending rose for the second consecutive week, and saw its largest weekly gain in a month

In the week ending August 1, travel spending tallied $11.9 billion (up 2% from the previous week) but still registered 48% below last year's levels (an $11 billion loss)
While car trips remained flat compared to the prior week, air trips increased 3%. Despite the uptick, air trips are still just 26% of 2019 levels
Eleven states and territories experienced losses exceeding 50%. Hawaii and the District of Columbia suffered the worst with losses exceeding 75%
The number of states posting weekly losses of less than 40% increased from 16 to 20
While states with large urban centers continue to underperform, they enjoyed relatively strong growth this week. The New England sub-region experienced the largest improvement with all six states ranking in the top 15 for weekly improvement
Since the beginning of March, the COVID-19 pandemic has resulted in over $320 billion in cumulative losses for the U.S. travel economy.
The continual depressed level of travel spending has caused a loss of $41 billion in federal, state, and local tax revenue since March 1

Car: Daily Trends Tracker
The Daily Travel Index from Arrivalist measures consumer road trips of 50 miles or more in all 50 U.S. states. Updated approximately every 48 hours 
Road travel last week again remained roughly at pre-pandemic (February) levels

Road travel was just 1.1% lower in the week ending August 1 than it was right before the crisis (in Feb. 2020), slightly better than in the previous week
While significantly improved from lows reaching -73% in April, a recovery to February levels of road travel in July still translates into lower than usual levels of travel during the summer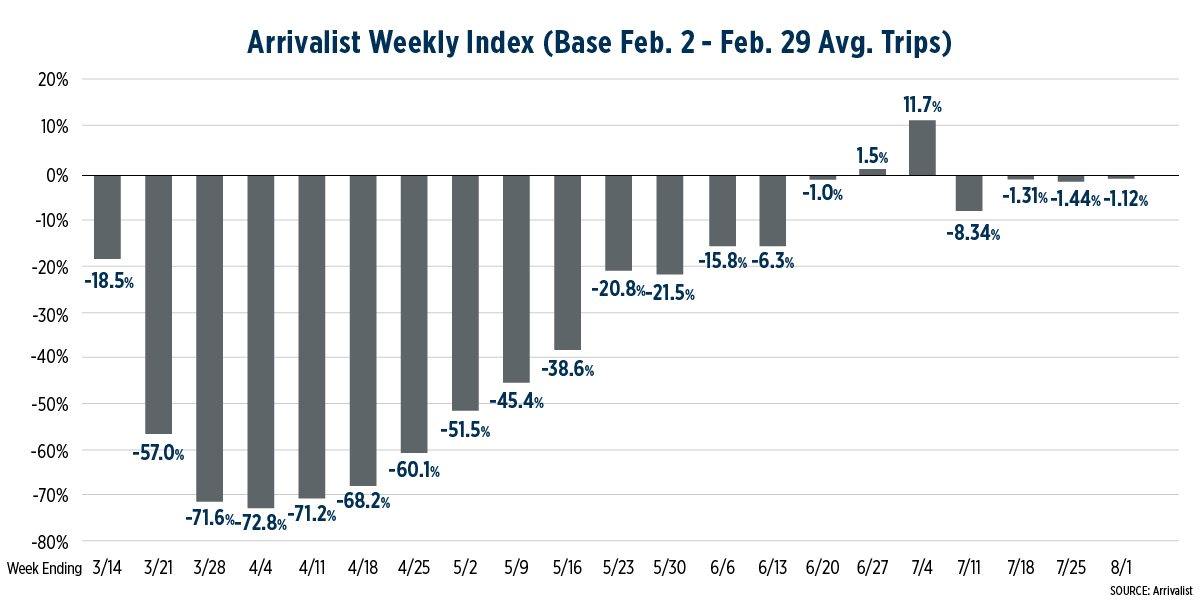 Air Travel: Passenger Screenings at TSA
The Transportation Security Administration (TSA) updates passenger screening numbers on a daily basis, providing a comparison to the same time last year.
TSA screenings reached 800,000 this past Sunday, the first time since March. The previous pandemic high (over the Fourth of July holiday) was 764,000
More than 700,000 people were screened for 5 days in a row (this past Thursday through Monday), the first time that has happened since mid-March
The latest seven-day average of screenings (through Tuesday August 4) was 4.5% higher than in the previous week, the highest jump since the Fourth of July holiday
Nevertheless, screenings over the last seven days remain 73% lower than in the same period last year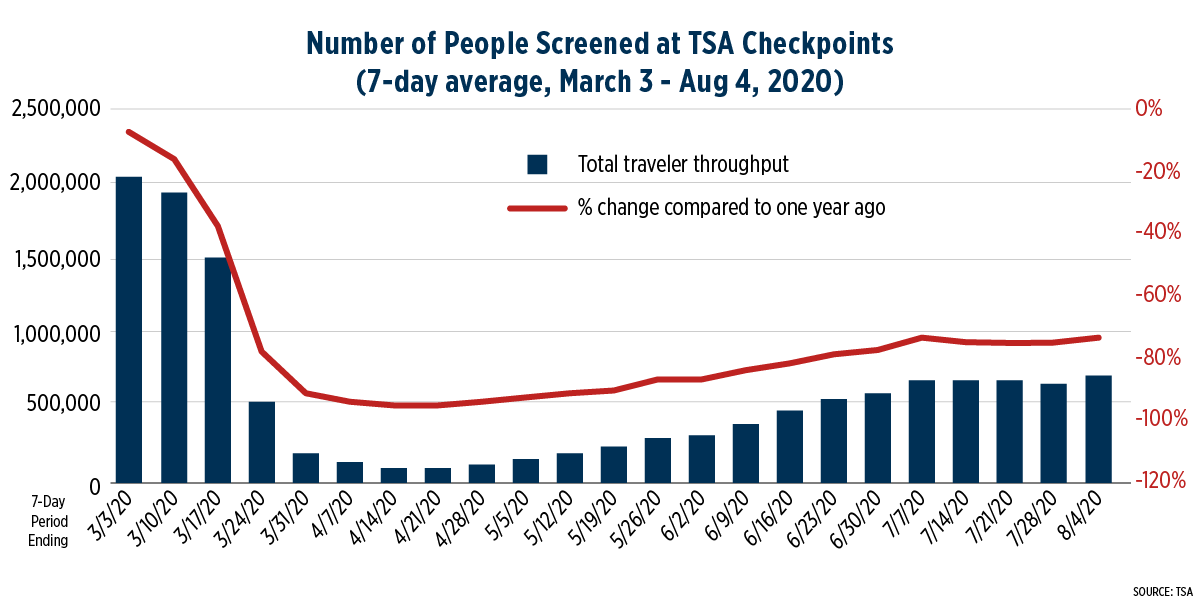 Tracking Search and Booking Behavior 
ADARA's Traveler Trends Tracker taps into real-time travel data on travel-related consumer behavior including hotel volume and flight bookings for both business and leisure travel. Updated daily.
The trend in domestic air and hotel bookings for future travel remained the same last week as in the previous week (-70% year-over-year), again with vast regional differences:

Domestic bookings to Wyoming (-10%) exhibited, by far, the lowest year-over-year decline, but performed slightly worse than the previous week (-7%) Montana (-14%) and South Dakota (-17%) again followed and both performed better than the previous week
Domestic bookings to New York (-83%), Massachusetts (-80%), and D.C. (-79%) saw the highest declines, similar to the previous week

International bookings for future travel to the U.S. were again unchanged at -79%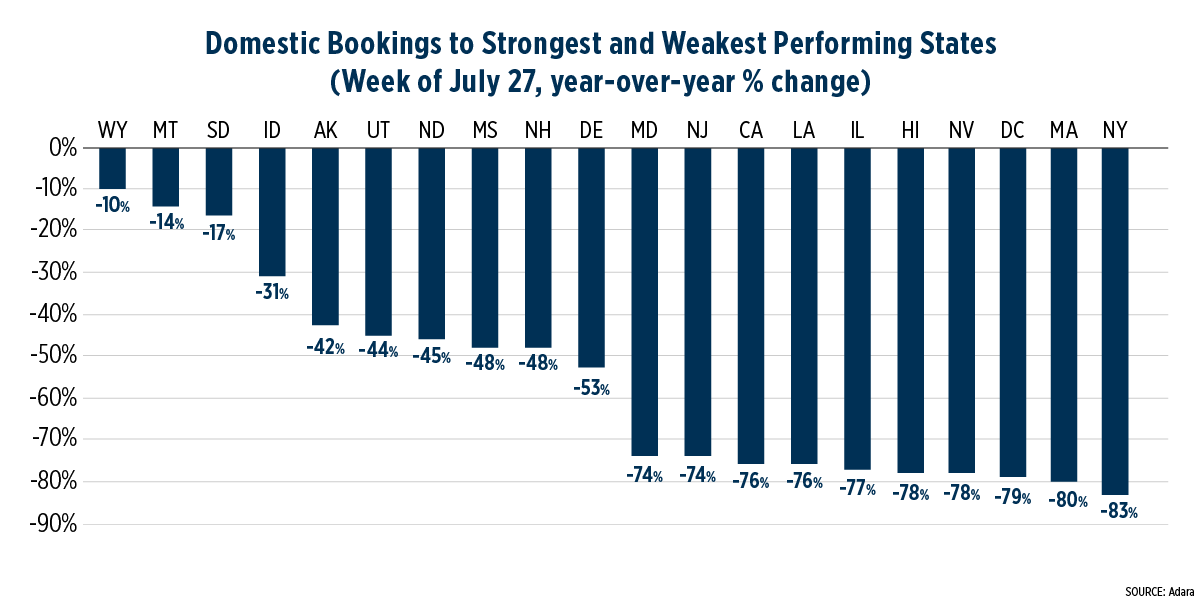 Insights into Americans + Travel 
This weekly survey by Destinations Analysts tracks key consumer perceptions, attitudes and behaviors of American business and leisure travelers. Key findings from August 3:   
While relatively few (16%) think the situation will improve next month, the proportion of those who think the pandemic will get worse has dropped in the latest wave of the survey (from 62% to 54%)
Nevertheless, the proportion of travelers who say they would be happy to see an ad promoting their community for tourism when it is safe has dropped from 36% at the end of June to 29% in early August
70% say COVID-related concerns are important when selecting specific destinations to visit
Nearly one-third of travelers say they are less likely to visit American destinations that they most associate with COVID-related issues even after the pandemic ends

In addition, 54% say that if a destination they are currently interested in visiting experiences difficulty managing the coronavirus situation, they will be less likely to visit even after the pandemic is over

Roughly half of travelers (49%) have travel planned for the remainder of 2020:

Of those travelers with at least tentative plans, one third have talked to friends or relatives, 28% have booked lodging and 27% have researched things to see and do on their trip. More than one-quarter (27%) have made no travel plans yet

When parents of school-aged kids were asked about their likelihood of taking family trips this fall, 35% of parents said they were more likely to take family trips this fall if their children did not have in-person education and 21% said they were less likely to do so
Tracking Traveler Sentiment​
Take advantage of Longwoods International's key findings on traveler sentiment around coronavirus to better navigate the current travel environment. Highlights from the survey fielded July 29:
Travelers are now relying less on official sources than earlier in the pandemic for information on safety; they are increasingly taking cues from actions of key players within the tourism industry

The percentage of travelers relying on the Centers for Disease Control and Prevention or other federal health agencies dropped from 57% on April 22 to 45% on July 29 and those relying on the White House Coronavirus Task Force declined from 24% to 17%
Reliance on information from state health officials slipped from 36% in April to 28% in July
On the other hand, the percentage of travelers saying they are taking cues on whether it is safe to travel from the operating status of major attractions increased from 14% to 18% and the percentage of those taking cues from marketing promotions and deals by the tourism industry increased from 4% to 14%

​Almost all of the key sentiment indicators that had reversed course from mid-June through early July appear to have stabilized and, in some cases, have begun to point back in the right direction
Concern about the economy greatly impacting travel plans has hit a survey-low of 16%
Travel and Economic Development 
Ketchum's Transforming Travelers Study analyzes how how travelers are reacting, reengaging with the world and redefining their values when it comes to traveling during the nonstop disruption that comes with the COVID-19 crisis. Highlights from the July 30 survey: 
Three in four (76%) expect to travel more in the next year after not being able to travel now
80% are willing to pay more for privacy and distancing, with cleanliness protocols now a big deciding factor
87% find that fellow travelers, not travel companies, have a bigger impact on whether they feel comfortable traveling. In other words, travelers do not trust each other to follow COVID-19 safety guidelines
Near-term travel plans will likely include close family and friends. Nearly two-thirds of parents say COVID-19 has made traveling with their children more likely. Even parents of adult children are more likely to travel as a family
While the majority Americans (68%) say they are now less interested in travel for work, the remainder (32%) are more interested than ever in work travel. A change of scene for one-third of the working population could be key to long-term workplace happiness and engagement

Economic Impact of Coronavirus 
An analysis by Oxford Economics on April 15 models the economic impacts of the travel industry from expected downturns in terms of GDP, unemployment and taxes. An updated analysis will be released mid-June.
The U.S. economy is projected to lose 8 million jobs by the end of April
Travel industry losses will result in a GDP impact of $1.2 trillion in 2020
Travel declines in 2020 will result in a loss of $80 billion in taxes this year

---
WEBINAR: On Thursday May 21, a panel of industry voices focused on how the travel industry, and DMOs in particular, can utilize research to inform their approach to recovery moving forward. You can also view the key takeaways and KPIs for DMOs to consider that were discussed during this webinar. 
---

---
If you would like to subscribe to our COVID-19 email updates for the travel industry, click here.