While the latest travel data reflects the dire situation that we face, it is very useful when speaking with Congress, the administration and government leaders about the urgent need to provide relief to our industry now. We also know that real-time insights are critical to detecting shifts in traveler behavior and sentiment so that you can plan appropriately for the future.
Note: This page will be updated every Thursday with new travel industry data. 
Weekly Analysis
Analysis by Tourism Economics shows a week-by-week outlook on travel spending in the U.S. The analysis also looks at regional and state-by-state breakdowns. Findings from the October 15 report: 
Travel spending growth slowed to 2% last week following its 5% expansion the prior week

In the

 week ending October 10,

 travel spending rose to $13.1 billion—the highest level seen from a non-national holiday week since the beginning of the pandemic

Travel spending losses are currently on par

 with September, w

hich would result in approximately $41 billion in losses for the entire month of October

Travel spending measured 41% below last year's levels (a $9.1 billion loss), a slight improvement from the 42% drop in the prior week
Since the 

beginning of March, 

the COVID-19 pandemic has resulted in $415 billion in cumulative losses for the U.S. travel economy

Hawaii, D.C., New York, Massachusetts and Illinois continue to experience losses exceeding 50%
Most states experienced moderate gains or slight losses. Mountainous states with many outdoor activity options experienced notable gains, including South Dakota, Montana, Idaho, North Dakota, Wyoming, Utah and Colorado

The continual depressed level of travel spending has caused a loss of $53.3 billion in federal, state, and local tax revenue

 since March 1

Tracking Traveler Trends:
 Air travel picked up its pace of growth (+12% weekly change), and its year-over-year (y/y) rate (-65%) continued to inch slightly better but remains deep in negative territory. Road travel improved again (-5.5% y/y) and is nearing pre-pandemic levels for the first time this year. Domestic as well as international bookings for future air and hotel travel improved compared to the prior two weeks but were still deep in negative territory at -62% y/y and -77% y/y, respectively.
Road Travel: Arrivalist Trends Tracker (Year-Over-Year Comparison Now Included) 
The Daily Travel Index from Arrivalist measures consumer road trips of 50 miles or more in all 50 U.S. states. It now provides year-over-year comparisons.
Road travel improved further last week (on a y/y basis) and is nearly at 2019 levels

Road travel was only 5.5% down y/y last week, which is, by far, its best performance in any week since the start of the pandemic other than Labor Day weekend 
The latest y/y declines reflect a significant improvement from lows of -70% y/y in early April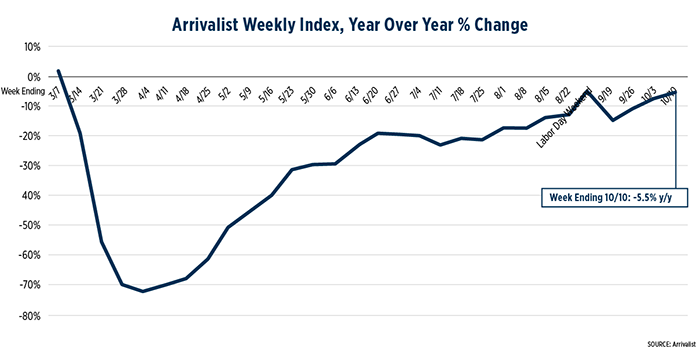 Air Travel: Passenger Screenings at TSA
The Transportation Security Administration (TSA) updates passenger screening numbers on a daily basis, providing a comparison to the same time last year.
The latest seven-day average of daily screenings (through Tuesday, October 13) reached a new pandemic high of 852,000

Screenings were up 12% last week compared to the previous week; the increase may be partly attributed to the Columbus Day holiday

Screenings over the last seven days were 65% lower than in the same period last year, better than any other week since March except Labor Day (-64%)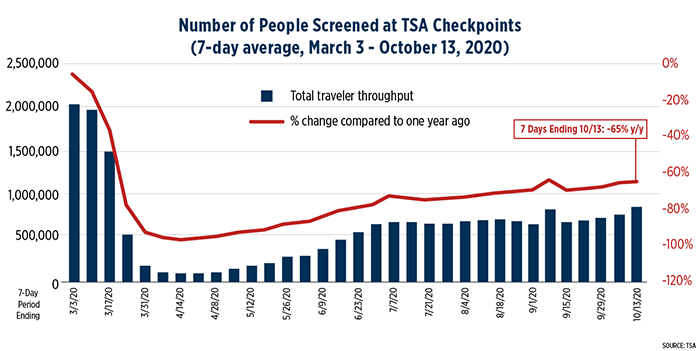 Tracking Search and Booking Behavior 
ADARA's Traveler Trends Tracker taps into real-time travel data on travel-related consumer behavior including hotel volume and flight bookings for both business and leisure travel. 
In addition, ADARA directly provides U.S. Travel with national and state-level booking data, summarized below:
Domestic air and hotel bookings for future travel (-62% y/y) improved slightly from the past two weeks but were still worse than early September levels
Regional differences remained similar to previous weeks

Domestic bookings to Montana (-27%), Wyoming (-27%) and South Dakota (-35%) experienced the lowest y/y declines and improved compared to the previous week, but were similar to the week of Sept. 21
Domestic bookings to New York (-81%), Massachusetts (-74%) and Maryland (-73%) again experienced the highest declines, performing slightly better than the previous week but roughly the same as the week of Sept. 21

International bookings for future travel to the U.S. (-77% y/y) continued to fare significantly worse than domestic bookings, with slight improvements compared to the earlier two weeks but a worse performance than August and early September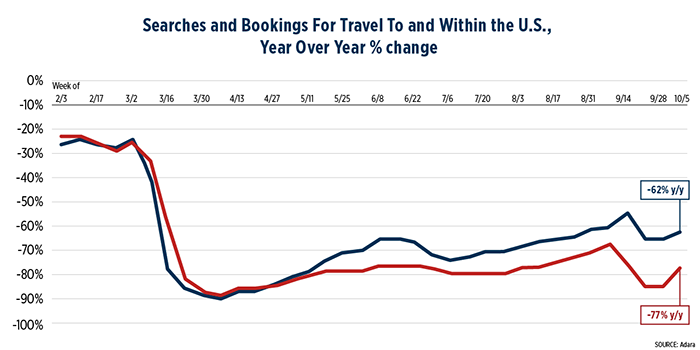 Traveler and Consumer Sentiment Survey Results
This weekly survey by Destinations Analysts tracks key consumer perceptions, attitudes and behaviors of American business and leisure travelers. Key findings from October 11:   
American travelers are less likely to visit a destination in the future due to current COVID-related issues than last month (34% - up from 28%)
Despite rising cases in many areas of the country and increasing fears about the virus, approximately 80% of American travelers report that they have at least tentative trip plans right now and about 40% say their next trip will take place this fall

At least a quarter of American travelers report that leisure travel will be an essential or high spending priority in the next three months
More Americans than any other time during the pandemic period are now open to discounting as a travel motivator—a sign that American travelers are more open to travel rather than being firmly unwilling

There has been a 10% increase in the last three months in the number of American travelers who say the most recent travel ad they saw made them "very happy" (29%)—while another 33% reported the ad made them "happy"

When it comes to travel advertising, nearly 70% feel positive or very positive about seeing travelers with face masks in travel ads, while less than 10% have a negative response

When it comes to the resources travelers use to find information they need to travel safely, they cite friends and relatives (70%) followed by state tourism offices and local convention & visitors bureaus as their most trusted sources
Adding mandatory COVID testing makes American travelers more likely to engage in a variety of travel activities, including commercial flights, sporting events, going to movie theaters and theme parks
Mandatory facemasks and social distancing are the most important activities motivating travelers to take a flight in the

next six months

Two-thirds considered other protocols such as testing and temperature checks to be important or very important
National Tracking Poll: COVID-19 and Travel Sentiment October 13, 2020
Nearly half of American travelers (48%) indicate that they will stay home this holiday season. Reports of a significant rise in new cases of COVID-19 in a majority of states, as well as requests from government and health officials around the country to limit the size of holiday season gatherings, are having an impact on initial holiday travel sentiment
Of those who say they plan to travel during the holidays, 41% plan to travel by car, while 19% intend to fly
Concerns that economic factors will greatly impact decisions to travel this winter remain consistently low at around 20%
About half of respondents (49%) say they feel safe dining and shopping locally (a key factor in restoring consumer confidence to travel)
Back-to-Normal Barometer October 14, 2020
A vaccine or therapeutic treatments to mitigate the effects of COVID-19 provide the most reassurance for travelers to feel comfortable staying in a hotel or flying again

Nearly one-third (34%) of travelers would be much more likely to fly domestically if all passengers and employees tested negative for COVID-19 immediately prior to flying
One-quarter of travelers (26%) would be much more likely to attend a conference if all attendees and employees tested negative for COVID-19

Six in 10 strongly agree that their employers should make it easy to obtain a COVID-19 vaccine once available
Nearly six in 10 (58%) are strongly concerned that there will be a second wave of COVID-19 outbreaks requiring event cancellations and lockdowns this year

Yet less than half (49%) said that they will definitely get a COVID-19 vaccine when it becomes available
Cautious Optimism for Fall Travel October 15, 2020
American travelers are making vacation plans through the end of the year but remain cautiously optimistic about their travel plans
Two-thirds of Americans planning a vacation before the end of the year reported some degree of uncertainty they will actually be able to take their vacation
As a result, many trips are being booked last minute: one in five Americans planning a trip before the year's end are doing so within one week of traveling
Eight in 10 trips this fall are expected to be road trips, primarily to destinations known for outdoor recreation activities
iMeet Survey of Meeting Planners, October 11, 2020
The percentage of planners who believe they will resume face-to-face meetings by the end of the year improved to 16% this week—up from 10%
More than half of planners have one or more request for proposals for the future in progress and 72% of planners have at least one future face-to-face meeting contracted
Looking into 2021, 40% of planners are targeting the first half of 2021 to resume face to face meetings (down from 55% last week), with the majority (33%) targeting Q2
---

---
If you would like to subscribe to our COVID-19 email updates for the travel industry, click here.