With nearly 11 million job openings in the U.S, the COVID-19 pandemic has left drastic and long-lasting impacts on the American workforce—with roughly one-in-six or 1.8 million job openings in leisure and hospitality alone as of the end of November 2021.
The workforce crisis is affecting every corner of our industry—from frontline hourly positions to mid-level management and beyond. Tourism has historically battled a reputation of low-paying jobs, long hours and little upward mobility—all of which were exacerbated by the COVID-19 pandemic. The loss of jobs due to the pandemic decimated travel, which despite gains through the summer, still falls 8% below its pre-pandemic levels as of November.
Leaders across the industry are exploring ways to recruit a more diverse population, incentivize hiring and highlight the benefits of a career in the travel industry with the goal of building back a more stable workforce.
The bottom line: the state of our workforce is very different today and we must work collectively to address today's challenges.
---
State of the American Workforce and its Impact on Travel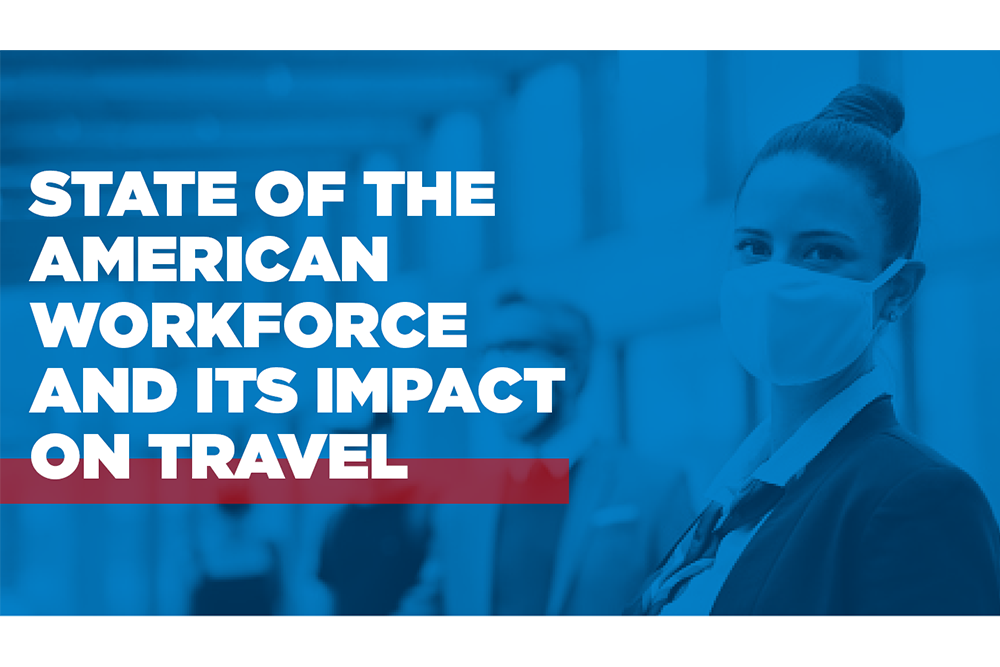 This new white paper analyzes how the pandemic impacted the state of the current workforce including the main reasons for workforce shortages, perceptions of travel and tourism, and the top employment considerations for today's workforce. Industry recommendations, quotes, call-outs and examples from inside and outside our industry provide unique perspectives and potential solutions on addressing the current hiring landscape.
View the executive summary deck highlighting key takeaways and findings here. 
Access the full, member-only report with detailed insights here. A member login will be required. 
Dig into the Data
Leisure and Hospitality (L&H) Employment Report | This report provides detailed data on the current employment situation for the hospitality sector, including key takeaways on labor market constraints, plus a comparison of overall travel employment versus L&H.
Travel Recovery Insights Dashboard | This comprehensive source intelligence on the U.S. travel industry and the broader economy includes detailed data on various indicators and forecasts—including a dedicated page on the U.S. Workforce with the current rate of job openings and hirings, hourly earnings by month and more.
Workforce Webinar Resources
We are committed to continuing the conversation around the workforce crisis, sharing more analysis and thought leadership as well as continued collaboration with industry partners to drive formative change for the future of the workforce. See the webinars below and stay tuned for more important conversations on the horizon.
Coming Soon 
U.S. Travel, alongside its members, is working to address the workforce challenges affecting our industry through chapter three of our recovery campaign series. The campaign is currently under development with plans to launch in early 2022. Stay tuned for details.