Amid the constraints of the pandemic, Americans are eschewing long-distance winter getaways and hitting the slopes closer to home, according to a new dashboard from Rove, Inc. in collaboration with the U.S. Travel Association and UberMedia.
The new dashboard—much like the similar national parks dashboard released by Rove, Inc. last year—is helpful in understanding Americans' travel habits and visitation trends during the pandemic.
Image

By aggregating data from tens of thousands of anonymous mobile devices, the dashboard can assess the characteristics of Americans skiing, how far they are traveling to ski, visitation trends and top origin markets of recent visitors for a sample of ski destinations.
According to Rove, it is not as common for one to ski in one's own community. For instance, during the 2019-20 season, mobility data aggregated across major ski destinations in America suggested that less than one in five skiers were locals. However, since the start of the 2020-2021 season (November 2020), the number of local skiers climbed to 27% indicating Americans' desire to stay closer to home and ski more locally. 
Image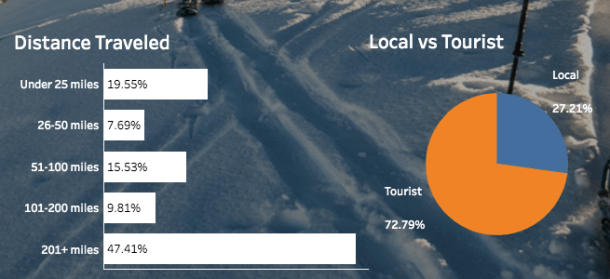 Resorts that would typically see more out-of-state visitors have noticed a precipitous drop in out-of-state visitation. In 2019, for example, New York City was the second-largest market for Vail Mountain Resort in Colorado. This year, New York City does not appear in Vail's top five markets and one-third of skiers are originating in nearby Denver
The trend of skiing locally was also recorded prominently in Utah, home to some of the world's most famous ski resorts:
"In Utah, aggregated mobile data from Alta, Brighton, Deer Valley, Park City, and Snowbird suggests 31% of skiers were from Salt Lake City in 2019-20. In 2020-21, that number jumped to 44%," said James Sauter, Partner and Co-founder of Rove, Inc.
While skiing is generally regarded by medical professionals as a low-risk activity, U.S. Travel urges Americans hitting the slopes to continue following health and safety best practices: wear a mask, wash hands frequently, physical distance when possible and stay home if feeling sick. U.S. Travel recently updated its Travel Confidently toolkit, which includes a suite of resources centered around the theme that a healthy and safe travel experience is a shared responsibility.
Rove, Inc. and Uber Media update the ski dashboard twice a month. Look for a new seasonal dashboard covering sun and snowbird destinations later this spring.
---
CONTACT US
U.S. Travel
For more information about this blog, please contact us at: