Register here for the Future of Travel Mobility conference!
| | |
| --- | --- |
| | Standard Rate |
| Delegate (Member) | $125 |
| Delegate (Non-Member) | $150 |
| Chairman's Circle Members | One complimentary registration |
| Board Circle Members | One complimentary registration |
| Association Board Circle Members | One complimentary registration |
The registration fee includes: Networking breakfast, full day of programming and networking reception (fee excludes hotel, travel and personal expenses).
Note: Instructions for obtaining the complimentary registration will be emailed to all eligible board members when online registration opens. For details, contact the Registrar at fotm@ustravel.org.
Registration Policies
Payment and Cancellation Policies
Payment in full should accompany applications for registrations. Accepted credit cards include: American Express, Discover, MasterCard, and Visa.
All cancellation requests should be emailed to fotm@ustravel.org. A 100 percent refund will be issued if the cancellation notice is received in writing on or before September 1, 2022. Cancellations received after September 1 will not be eligible for any refund. All refunds will be issued to the same credit card used for payment.
Substitution/Name Change Policy
Substitution/Name Changes will be made at no charge and should be emailed to fotm@ustravel.org.
Event Photography/Videography Policy
By registering for and/or attending Future of Travel Mobility, delegates understand and agree that they may be photographed, filmed, or videotaped and hereby give U.S. Travel and those acting with its permission to take pictures and/or recordings of such delegates, and grant the perpetual right to use their name, voice, photograph, portrait, likeness, and biographical information (collectively, "Likeness"), without compensation, for broadcast or exhibition in any media now known or hereafter devised and to put the finished pictures/recordings to any lawful use without limitation or reservation.
Delegates hereby waive, release and forever discharge U.S. Travel from and against any and all claims or actions arising out of or resulting from any use of their Likeness.
Delegates who wish to opt-out of this waiver must complete the Media Opt-Out Form and bring it and the required photo to the registration desk on-site.
Event Code of Conduct
The U.S. Travel Code of Conduct for Events establishes minimum expectations of behavior for individuals attending U.S. Travel-sponsored events such that all participants may feel safe and are treated with respect. The Code is strictly enforced.
No Conflicting Events Policy
Participants may not organize or sponsor any activities that conflict with the official program or sponsored events during official conference hours. Our partners have made significant investments in specific parts of the program, and we want all delegates to be able to enjoy this annual, one-of-a-kind experience without distraction.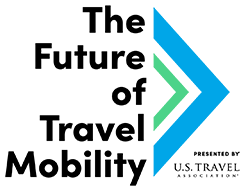 ---
CONTACT US
Laura Holmberg
Vice President, Marketing and Industry Communications
---
THANK YOU TO