The High Price of Silence: Analyzing the Business Implications of an Under-Vacationed Workforce
REPORT October 12, 2016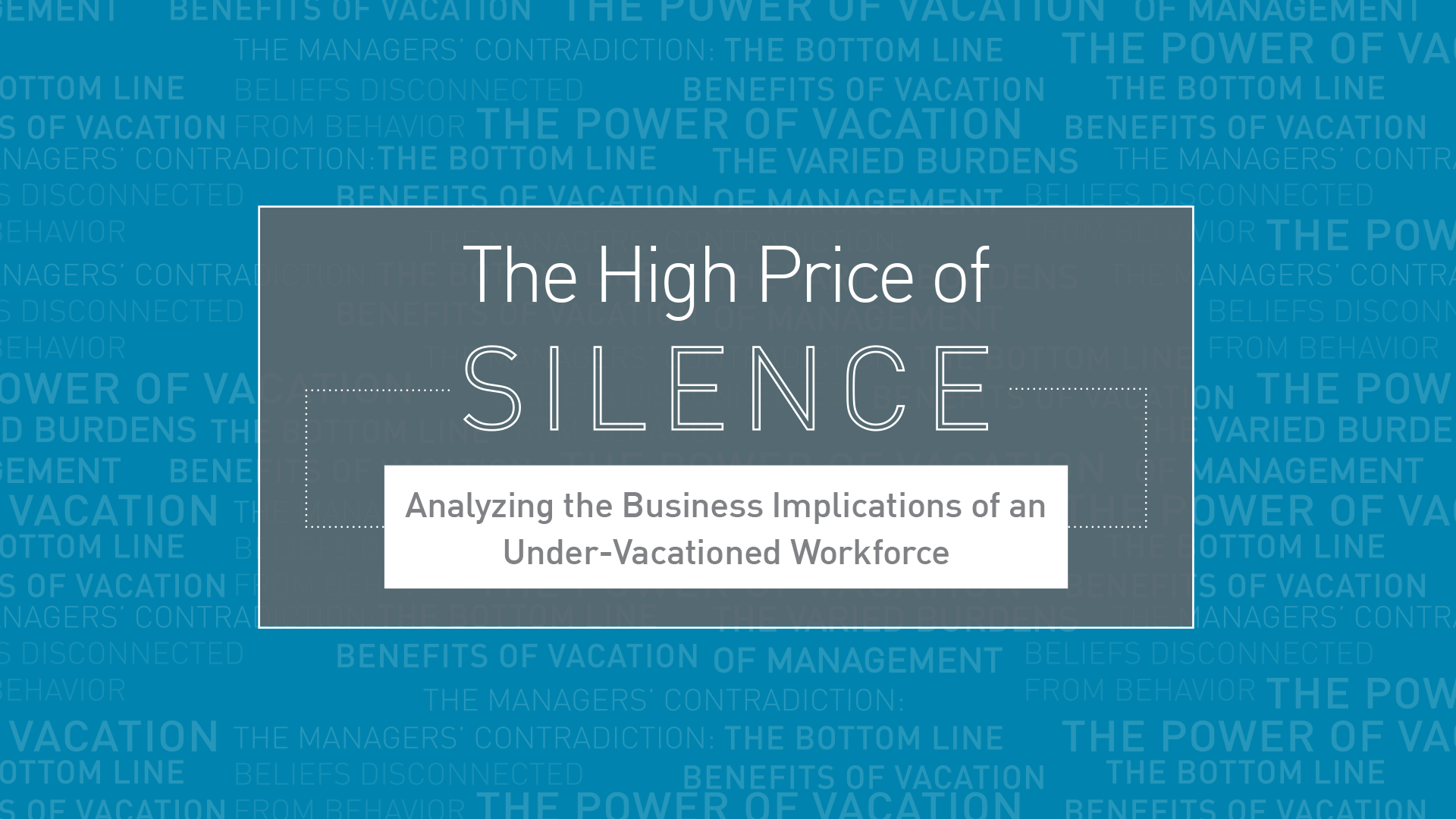 The new report, The High Price of Silence: Analyzing the Business Implications of an Under-Vacationed Workforce, reveals the cost implications for businesses that ignore the power of vacation.
There is a significant disconnect between managers' beliefs and behavior. Despite overwhelming support of employee vacations, managers are much more likely to leave vacation time unused, and feel a great deal of stress and anxiety taking time off, which works its way through the rest of the company.
The report uncovers the $272 billion in vacation liability—up 21 percent since 2015—sitting on the balance sheets of the American private sector. That's the time employees can roll over or bank. But the cost of unused time goes far beyond that number. Skipping vacations means less creativity and innovation, and lower energy and productivity.
There are some enlightened companies that appreciate the power of vacation and are harnessing it for the good of their business. This report highlights several case examples of companies that are making vacation work for them. From inspiring the vision of what Starbucks has become to lowering health care costs at FullContact to teaching Deloitte Consulting's CEO that disconnecting is a great test of his talent strategy, vacation has made the difference.
---
The growth of domestic travel is central to U.S. Travel's overall mission. We support policies to improve travel infrastructure and national parks, among others, and foster programs and research that encourage increased domestic travel.
In the fall of 2018, U.S. Travel folded its domestic leisure-focused Project: Time Off initiative into an expanded public affairs portfolio, enhancing the association's advocacy and research on domestic travel. Analysis that informs and advances this area of focus—including tracking America's vacation usage and its benefits to travelers—is included in U.S. Travel's research and messaging platforms for our members' use and in support of activations such as National Plan for Vacation Day.
---
QUICK FACTS
$272
Billion
Vacation liability sitting on the balance sheets of American companies.
Vacation time can be costly for companies that do not encourage it.  That number is up 21 percent since 2015 when the vacation liability stood at $224 billion. The per employee liability is $2,226, up from $1,898 in 2015.
---
75%
Of executive and senior leaders would like to make it an organization-wide policy to encourage taking time off.
Accordingly, 80 percent of Americans say they would be more likely to use their time if they felt encouraged by their boss.