The State of American Vacation: How Vacation Became A Casualty of Our Work Culture
REPORT June 14, 2016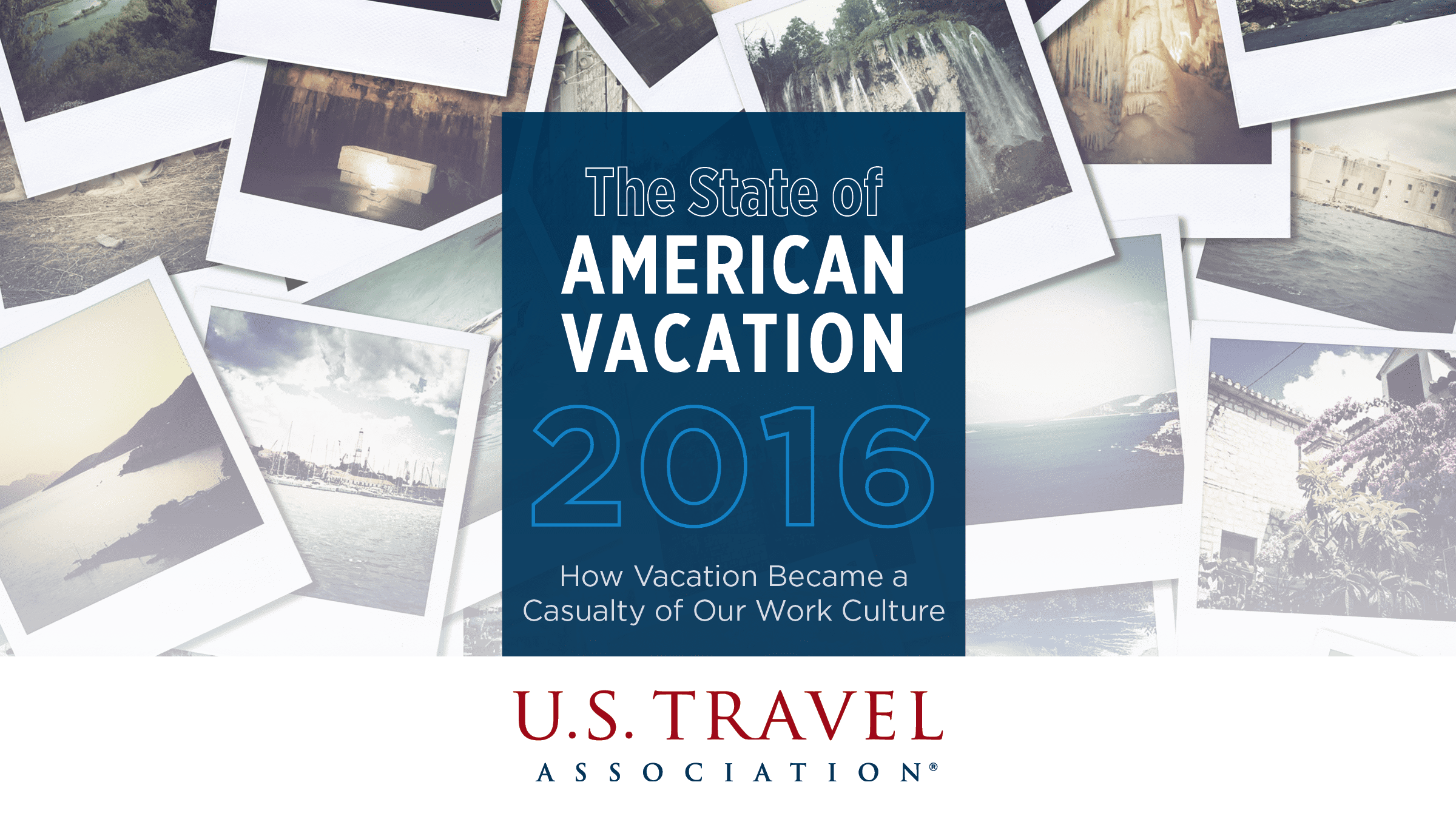 America's time off habits, or lack thereof, have resulted in a record-setting waste of 658 million vacation days. More than half of American workers (55%) left vacation time unused in 2015 and forfeited a total of 222 million days. Will we take action to win back America's Lost Week, or let vacation time become a casualty of the new work martyrdom culture? 
"The State of American Vacation" provides the most comprehensive look at America's vacation habits to date. The study examines how America's Lost Week, a 15-year decline in vacation usage, overlaps with key economic measures and the adaptation of technology in the workplace to determine what may be at the root of America's work martyrdom.
Beyond the pressures workers place on themselves, managers play a key role in vacation habits as employees ranked their boss the most powerful influencer when it comes to taking time off. Further, 80 percent of employees said they would likely take more time off if they felt fully supported and encouraged by their boss. 
There is no slowing down technological advancement. The workplace will always be at Americans' fingertips. These advances have improved life immeasurably, but have also created the conditions that require employees take an active role in creating time. Vacation time will not happen without dedicated thought and planning.
---
The growth of domestic travel is central to U.S. Travel's overall mission. We support policies to improve travel infrastructure and national parks, among others, and foster programs and research that encourage increased domestic travel.
In the fall of 2018, U.S. Travel folded its domestic leisure-focused Project: Time Off initiative into an expanded public affairs portfolio, enhancing the association's advocacy and research on domestic travel. Analysis that informs and advances this area of focus—including tracking America's vacation usage and its benefits to travelers—is included in U.S. Travel's research and messaging platforms for our members' use and in support of activations such as National Plan for Vacation Day.
---
QUICK FACTS
705
Million
Total Unused Vacation Days Annually
If Americans were to use all their unused time off, it would deliver a $255 billion jolt to the U.S. economy and create 1.9 million new American jobs.
---
17.2
Days
Average Number of Vacation Days Taken in 2017
For decades, Americans took an average of 20.3 days of vacation, but in 2000, usage fell below the long-term average and has yet to recover. The latest data shows the trendline moving in a positive direction, back up to 17.2 days used in 2017.
---
$66.4
Billion
In Forfeited Benefits
By giving up this time off, Americans are effectively volunteering hundreds of millions of days of free work for their employers, which results in $66.4 billion in forfeited benefits. That means that last year employees effectively donated an average of $604 in work time to their employer.