Getting Back to Business: The Mid-Point to 2019 Levels
REPORT March 29, 2022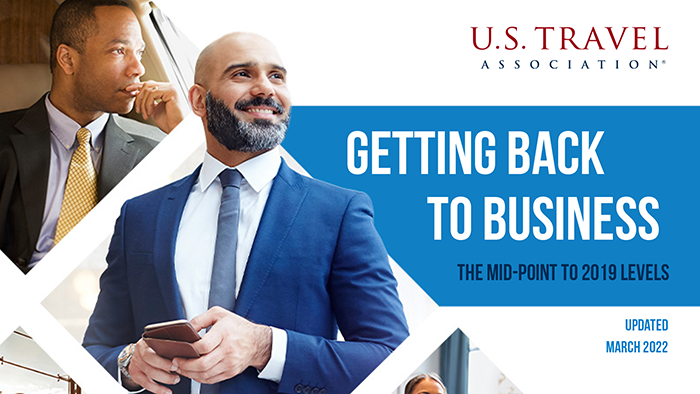 First released in late 2020, the updated Back to Business report highlights the uneven recovery of this industry segment, remaining challenges, the near-term outlook including the latest projected recovery timelines as well as future opportunities.
The report includes interviews from key industry stakeholders across travel verticals to explain the importance of business travel to all travel organizations including airlines, lodging, rental cars and destinations. 
Business travel is critically important to restoring the travel economy—and for a rebound of the U.S. economy overall. Business travel has a disproportionate impact to our businesses. Despite making up 20% of pre-pandemic trip volume, business travelers account for 40-60% of lodging and air revenue in the U.S. 
Domestic leisure travel is now fully recovered to 2019 levels, but business travel remained at less than half of 2019 levels in 2021. A return to a thriving travel industry—and American economy—is dependent on the return of business travel, meetings, events and conventions. 
As restrictions are lifted across the world and we reach an endemic state of normal, the world is ready to get back to conducting business the way we were meant to—face-to-face. 
Bottom line: To get business back, we must get back to business.
 
Getting Back to Business: The Mid-Point to 2019 Levels, 2022
VIEW PAST EDITIONS
---
ADDITIONAL RESEARCH