Direct spending by resident and international travelers in the U.S. averaged $2.7 billion a day, $113.1 million an hour, $1.9 million a minute and $31,400 a second.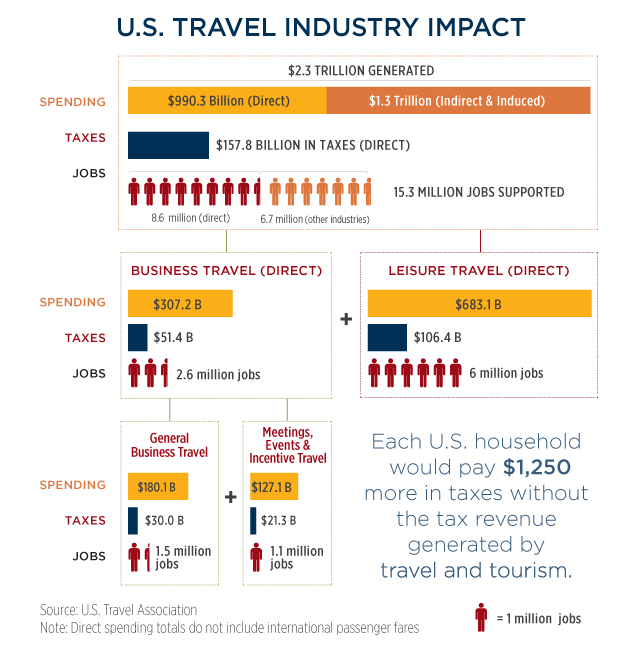 Leisure Travel
Direct spending on leisure travel by domestic and international travelers totaled $683.1 billion in 2016.
Spending on leisure travel generated $106.4 billion in tax revenue.
Nearly 4 out of 5 domestic trips taken are for leisure purposes (79%).
U.S. residents logged 1.7 billion person‑trips* for leisure purposes in 2016.
Top leisure travel activities for U.S. domestic travelers: (1) visiting relatives; (2) shopping; (3) visiting friends; (4) fine dining; and (5) rural sightseeing.
Business Travel
Direct spending on business travel by domestic and international travelers, including expenditures on meetings, events and incentive programs (ME&I), totaled $307.2 billion in 2016.
ME&I travel accounted for $127.1 billion of all business travel spending.
U.S. residents logged 457.4 million person‑trips* for business purposes in 2016, with 38% for meetings and events.
For every dollar invested in business travel, businesses benefit from an average of $9.50 in increased revenue and $2.90 in new profits (2012).
*Person-trip defined as one person on a trip away from home overnight in paid accommodations or on a day or overnight trip to places 50 miles or more [one-way] away from home
International Travel
In 2016, U.S. Travel Exports (includes general travel spending, international passenger fares, as well as international traveler spending on medical, educational and cross‑border/seasonal work‑related activities) totaled $245 billion. International Travel Imports totaled $161 billion, creating a $84 billion travel trade surplus.
International arrivals to the U.S. are projected to have reached 75.6 million in 2016. Of those, approximately 37.6 million came from overseas markets and 38.0 million were from Canada and Mexico.
The United States' share of total international arrivals is 6.1% (down from 7.5% in 2000).
International travel spending directly supported about 1.2 million U.S. jobs and $32.4 billion in wages.
Each overseas traveler spends approximately $4,360 when they visit the U.S. and stay on average 18 nights.
Overseas arrivals represent 50% of all international arrivals, yet account for 85.3% of total international travel spending.
Top leisure travel activities for overseas visitors: (1) shopping; (2) sightseeing; (3) fine dining; (4) national parks/monuments; and (5) amusement/theme parks.
*Person-trip defined as one person on a trip away from home overnight in paid accommodations or on a day or overnight trip to places 50 miles or more [one-way] away from home

Source U.S. Travel estimates based on U.S. Department of Commerce - National Travel and Tourism Office