Accelerating Travel's Recovery
Image

Until business travel, meetings and events are fully restored, the pace of economic recovery will continue to suffer.
---
Let's Meet There
The Let's Meet There campaign is a national initiative to restore professional meetings and events (PME) across the United States.
Utilizing paid media, earned media, and turnkey tools for grassroots-based outreach, U.S. Travel Association, the Meetings Mean Business Coalition and industry stakeholders are working to educate business leaders, elected officials, and other key decision-makers about the safety of professional meetings and events and the role they play in advancing business interests and growing the broader economy.
Image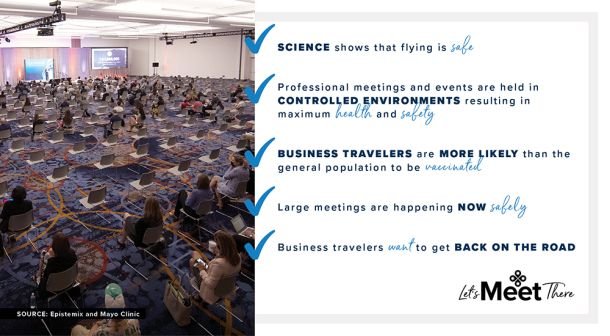 Use the resources below to amplify the Let's Meet There messaging further. To communicate directly with elected officials and business leaders, download and share the key messages, fact sheets, sample letters, social guide and graphics to reinforce the urgency of lifting remaining gathering limits across all states and to accelerate the return of professional meetings and events.

---
Let's Go There: An Industrywide Campaign 
In September 2020, U.S. Travel and a coalition of more than 75 businesses and organizations, including many of the most recognizable U.S. brands from both within and outside the travel sector responsed to the need for jumpstarting leisure travel demand by launching the Let's Go There Campaign—a national initiative to inspire Americans to do what is exciting, safe and productive: make plans to travel. 
Through a phased and layered approach, this integrated, multi-channel consumer campaign filled the media ecosystem and created an echo chamber across the industry. Thousands of organizations from across the U.S. engaged to spread the Let's Go There message, generating 836 million impressions through social and digital channels, 416 million video views and 847 million impressions from online, TV and print media over the course of the campaign. 
Image

---
KEY RESOURCE LINKS
---
CONTACT US
Laura Holmberg
VP, Marketing and Industry Communications
---
GET INVOLVED
Let's Meet There Action Center