Travel: America's Unsung Hero of Job Creation
REPORT August 28, 2017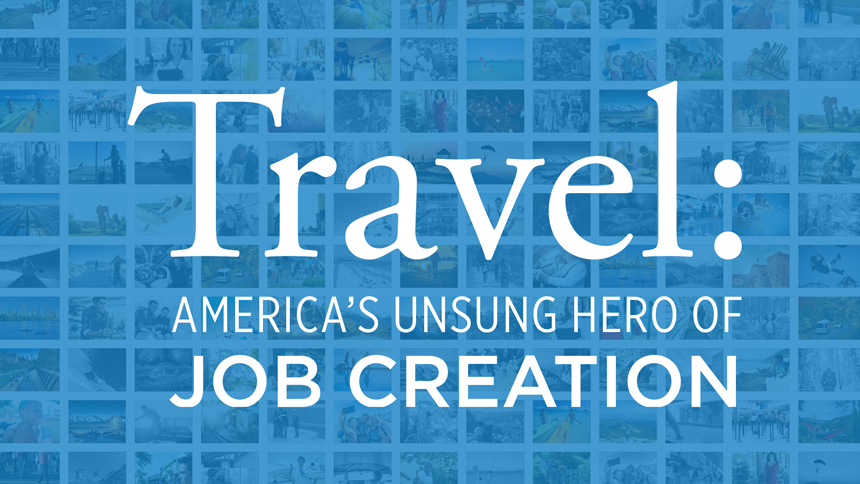 Travel is fundamental to the American way of life; Americans took 2.2 billion person trips in 2016. Travel is equally essential to the American economy and an indispensable source for job creation. Travelers spent $1,199.4 billion in 2017, of which 16 percent was spent by international visitors. This spending directly supported 8.8 million jobs in the travel industry and a total of 15.6 million jobs in all sectors across America.
This report highlights the travel industry's critical role in creating millions of American jobs, across all 50 states, and in every congressional district nationwide:
Section I focuses on the overall contribution of the travel industry (domestic and international inbound) to the U.S. labor market.
Section II places specific emphasis on the valuable impact of international visitors to the U.S. economy and American jobs.
Section III identifies the major policies that are pro-growth, pro-competition and pro-traveler which should be prioritized by lawmakers as some of the most effective ways to increase economic growth and job creation in the United States.
With the help of the accompanying toolkit of resources, please spread the word: Travel is America's Unsung Hero of Job Creation! 
The report is public and can be downloaded for free. Please contact Publications by email for information on purchasing bound copies.
---
QUICK FACTS
8.6
Million
American jobs directly supported by travel
Domestic and international travelers in the U.S. directly supported 8.6 million American jobs in 2016.
---
8.7
Number of travel jobs supported by $1 million in travel spending
Every $1 million in travel spending supports 8.7  American jobs—double the 4.4 jobs supported by $1 million in the overall private sector.
---
22
%
Share of Americans whose first job was in travel
More than a fifth of all working Americans began their careers with a travel-related job.
---
1.2
Million
Number of American jobs directly supported by international inbound travel
Despite the relatively small share (3.3%) of international inbound travelers on the overwhelmingly domestic-based U.S. travel market, international travel spending supports one out of every seven (14%) direct travel jobs in the U.S.