The travel industry has come together, working with health and medical experts, to reach collective agreement on a core set of health and safety guidance that the industry may adapt to their businesses.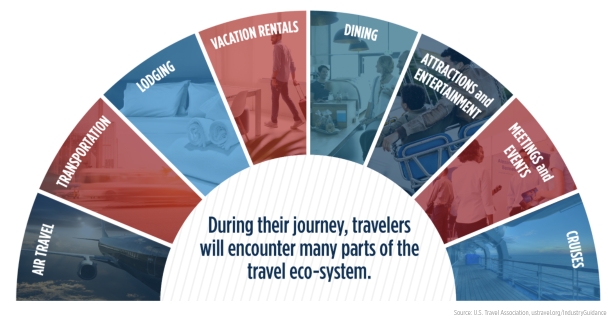 The guidance aims to provide consistency in the approach to safety employed by travel brands and destinations during the customer experience. It not only directly responds to the COVID-19 threat we face today—it also prepares our industry to handle future threats that may arise. The guidance has been updated regularly to reflect the latest science-based recommendations. 
Related Webinars:

Travel businesses should follow strategies designed to reduce risks of COVID-19 transmission. Strategies should include operational changes, new employee practices or reimagining high-traffic public spaces. Strategies should also align with CDC guidance to build confidence with travelers and industry employees that their health and safety is our top priority. 
For some businesses these strategies will include practices such as:
Wearing masks to protect both the mask wearer and others. The travel industry strongly urges all travel employees and customers to wear masks. A wealth of information from medical experts makes clear that wearing a mask is a highly effective tool to prevent the spread of infection
Reinforcing hand hygiene which can decrease the risk of transmission of respiratory viruses by ~50%
Encouraging physical distancing by posting new signage to ensure proper separation in lines and common areas, discouraging congregating in crowded areas, reconfiguring public spaces, or limiting the number of employees and customers in various areas
Thinking creatively to limit staff physical contact with customers

 

where practical while still delivering superior service
Utilizing personal protective equipment (PPE) 
Installing physical barriers, such as transparent screens to provide proper separation between customers and employees
Educating both employees and customers about their shared responsibility to help protect each other in a COVID-19 environment.
Travel businesses should consider implementing touchless solutions, where practical, to limit the opportunity for virus transmission while also enabling a positive travel experience.  Such measures may include adopting contactless technologies or procedures for:
Purchasing tickets
Limiting queues
Confirming identification
Checking in / checking out
Paying for goods and services
Automated ordering and pick-up for food and services
A broader range of travel and hospitality amenities

Travel businesses should adopt and implement enhanced sanitation procedures specifically designed to combat the transmission of COVID-19.​ To promote the health and safety of our customers and employees, every segment of the travel industry should deploy enhanced sanitation procedures that include:
Establish a policy implementing more frequent hand washing by all employees
Sanitizing more frequently, using products and disinfectants that meet requirements for effectiveness against COVID-19; special attention to high-touch surfaces
Providing hand sanitizer in public areas throughout facilities
Modifying business hours when necessary to carry out thorough sanitation and disinfection procedures
Providing new training for employees on implementing these measures with oversight on execution
Researching technological innovations and testing new procedures, as appropriate, to enhance sanitation

Travel businesses should recomend travel employees get the COVID-19 vaccine in addition to providing health screening measures, isolating workers with possible COVID-19 symptoms and providing health resources to customers.
Travel businesses should adopt health screening procedures that require all employees:
To monitor their health
To get an annual flu shot
To not report to work if they are ill and/or showing any symptoms
To self-isolate if showing symptoms of COVID-19, if awaiting test results, or if diagnosed with COVID-19
Get an approved COVID-19 vaccine when available
Travelers also have a role to play in preventing the spread of COVID-19. To help them fulfill this responsibility, travel businesses should offer appropriate resources to customers to better enable them to monitor and screen their own health, including:
Signage communicating COVID-19 symptoms
Guidance to local public health resources in case testing or treatment is needed
Materials describing good health practices to protect themselves and others
Communications encouraging travelers to stay home if they are sick and to postpone travel until they are well
Additional Consideration
Contact Tracing. Travel businesses should encourage employees to participate in all contact tracing requests from public health officials. Travelers and travel industry employees should also download free applications that anonymously gather data and inform users if they have been exposed to someone with COVID-19. 
Telehealth. If health insurance plans cover telehealth services, employers should encourage employees to use them whenever possible. Telehealth enables patients to conveniently seek care from a medical professional from home, eliminating the need to visit a doctor's office or go to a hospital. This lowers the risk of exposure to the virus, while also expanding health care access for patients with COVID-19 symptoms. If travel employers are able, they should select plans that offer coverage for telehealth services.
Testing. is an indispensable strategy for fighting COVID-19. The travel industry supports broadening the availability of efficient, effective, COVID-19 testing to identify positive cases and prevent people infected with the virus from spreading it. Wider availability of testing would help to keep employees safe and businesses open, while boosting confidence in safe and healthy travel.
If an employee or customer tests positive, travel businesses should follow an appropriate checklist of actions in response. Travel businesses should follow guidance from leading public health authorities to define necessary actions in these instances.

Travel businesses should follow best practices in food and beverage service to promote health of employees and customers.
While COVID-19 is not a food borne illness, food and beverage service is an essential and ubiquitous part of the hospitality our industry provides to travelers.
When serving food and beverages, travel businesses should follow FDA's Best Practices for Retail Food Stores, Restaurants, and Food Pick-Up/Delivery Services During the COVID-19 Pandemic and the National Restaurant Association's COVID-19 Re-Opening Guidance.
They should also review the National Restaurant Association's longstanding ServSafe guidelines or comparable state program.

Decide if you can travel safely. Do not travel if you are sick or if you have been around someone with COVID-19 in the past 14 days. If you are at higher risk, consider postponing travel. CDC guidance on increased risk is available here
Get an approved COVID-19 vaccine. Because of limited U.S. supply of COVID-19 vaccine, CDC is providing recommendations to federal, state, and local governments on priority distribution. Contact your local health department for more information on COVID-19 vaccination in your area.
Wear a mask. Wearing a mask with two or more layers can help stop the spread of COVID-19. Wear it over your nose and mouth and secure it under your chin. Make sure it fits snugly against the sides of your face. Avoid touching your mask, eyes, nose and mouth. Wear a mask at all times when in public, indoors and outdoors, except when eating, drinking and sleeping.
Get an annual flu vaccine. A flu vaccine is an essential part of protecting your and your family's health this flu season.
Practice physical distancing, when possible. Stay six feet from those who do not live with you, both indoors and outdoors, as even those without symptoms can spread COVID-19.
Wash your hands frequently. Wash hands with soap and water for at least 20 seconds, including after using the bathroom and being in a public place, or use hand sanitizer with at least 60% alcohol if soap and water are not available.
Before travel, check information about your destination. Check health departments for local requirements and the most up-to-date travel information about your destination. 

The following organizations show their support of this travel industry guidance, which will be shared with the entire travel industry and expanded upon by each sector as necessary. These organizations and their members represent the majority of the $2.6 trillion U.S. travel industry.